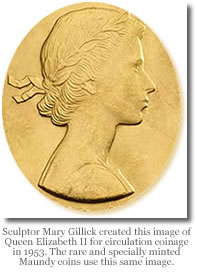 Queen Elizabeth led the Royal Maundy Service on Thursday in Westminster Abbey, the same location where Prince William and Kate Middleton will marry next Friday.
In keeping with an annual tradition to mark Holy Thursday before Easter, the Queen handed out commemorative coins along with uniquely minted coins within small red and white purses. This year was different, however, as it was the first time the Queen's birthday coincided with the Maundy Thursday.
The Queen's age is a part of the Royal Maundy Service tradition, as it is used to determine how many individuals are selected for the ceremony and how many coins are handed out.
Queen Elizabeth turned 85, which meant 85 men and 85 women were selected to receive the two purses of coins.
The red purse contained a small amount of regular money to represent alms of food and clothing. This year it included a £5 coin commemorating the Duke of Edinburgh's 90th birthday and a 50p coin celebrating the 2012 London Olympic Games.
The white purse contained unique coins — the Maundy Money, which included 92.5 percent silver one, two, three and four penny pieces totaling 85, or the the Queen's age.
The Maundy coins are uniquely designed and specially produced by the Royal Mint each year for the ceremony. The effigy of Queen Elizabeth II on coins has seen four changes through the her reign. The Maundy coins bear Her Majesty's portrait which was sculpted by Mary Gillick and first struck on coins issued in the year of the Queen's 1953 coronation.
The word Maundy is derived from Christ's commandment at the Last Supper to love one another, before he washed the feet of his disciples. The Royal Maundy service dates back to at least the 12th century.
A short AP video courtesy of BBC describes the Maundy tradition and shows the Queen as she arrived for the ceremony at Westminster Abbey.