U.S. gold and silver prices ended the week on a robust note for a second straight Friday.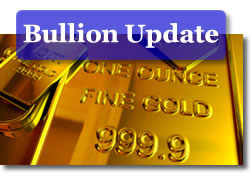 Gold closed to an all-time record high at near $1,490 an ounce. Silver prices soared 91 cents to over $42 an ounce and a fresh 31-year high. Gains were attributed to "inflation worries," the prominent buzzwords of the day and much of the week.
June gold prices rallied $13.60, or 0.9 percent, to settle at $1,486.00 an ounce on the Comex in New York. Gold traded between $1,472.20 and $1,488.60.
"People are buying gold and silver as a protection against inflation. If the Fed doesn't start raising rates, inflation is really going to hit hard and cripple the economy," Miguel Perez-Santalla, vice president of sales at Heraeus Precious Metals Management, said and was quoted on Reuters.
US inflation rose 0.5 percent in March, the U.S. Labor department said Friday in its monthly consumer prices report. The annual US inflation rate picked up 2.7 percent against the previous 2.1 percent 12-month gain, driven higher by food and energy prices. The increase was the biggest since December 2009. Core US inflation, however, which discards volatile food and energy numbers, was relatively tame.
But China and euro area consumer prices were another matter of attention. Inflation accelerated at a quicker pace in those regions, according to reports also released on Friday.
"Gold prices remain supported on the back of its appeal as a hedge against inflation, amidst emerging inflationary concerns in the U.S., Europe and China," analysts at ICICI Bank wrote in a note to clients that was cited on MarketWatch.
"The inflationary numbers in the backdrop are very bullish for gold," Adam Klopfenstein, a senior market strategist at Lind-Waldock in Chicago, said and was quoted on Bloomberg. "With the sovereign-debt problems in Europe and the U.S., investors want metals to protect them."
Gold prices rose 0.8 percent this week after soaring 3.2 percent last week. The yellow metal has gained 4.5 percent in 2011.
Silver prices for May delivery surged 90.7 cents, or 2.2 percent, to close at $42.571 an ounce. The metal ranged between $41.815 and $42.865. Silver prices gained 4.8 percent this week after advancing 7.6 percent last week. Prices are 37.6 percent higher in 2011.
Platinum prices for July delivery declined 80 cents to $1,794.80 an ounce. Prices ranged between $1,788.80 and $1,801.20. Platinum declined 1.0 percent this week. It has gained a modest 0.9 percent on the year.
Palladium prices for June delivery lost $6.15, or 0.8 percent, to settle at $768.10 an ounce. They hit an intraday low of $764.00 and a high of $779.45. Palladium declined 3.3 percent this week and it is down 4.4 percent in 2011.
London PM fix bullion prices on Friday were higher across the board when compared to their PM fixings on Thursday. Gains were mixed on the week, however.
The PM gold fix advanced $11.00 at $1,476.75 an ounce. The fixing rose 0.5 percent this week.
The silver fixing was $42.610 an ounce, capping a hefty $1.94 gain on the day and registering a pick-up of 5.9 percent on the week.
The platinum fix added $15.00 at $1,787.00 an ounce. It declined 0.9 percent this week.
Palladium rose $9.00 for the day but fell 3.3 percent on the week. Its fixing on Friday was $772.00 an ounce.
In what has been a rarity of late, all US Mint bullion products advanced Friday, albeit modestly. From the smallest to largest size Gold Eagle, daily gains were 5,000 (1/10 oz); 2,000 (1/4 oz); 1,000 (1/2oz); and 2,500 (1 oz). The two middle fractional Gold Eagles rose for the first time this month. In other daily increases, the Gold Buffalo added 2,500 and the Silver Eagle advanced 47,000.
In total bullion ounces sold by the US Mint, weekly levels were lower as compared to gains from the previous week. The following table of US Mint bullion coin sales figures highlights the differences.
US Mint 2011 Bullion Coin Sales
Prior Weekly Gains
Weekly Gains
April
YTD 2011
American Eagle Gold Coin (1 oz)
19,500
8,000
46,500
310,000
American Eagle Gold Coin (1/2 oz)
0
1,000
1,000
22,000
American Eagle Gold Coin (1/4 oz)
0
2,000
2,000
40,000
American Eagle Gold Coin (1/10 oz)
5,000
10,000
15,000
175,000
American Buffalo Gold Coin (1 oz)
3,000
7,000
10,000
48,000
American Eagle Silver (1 oz)
700,000
671,000
1,421,000
13,850,000
In a recap of perhaps the biggest US Mint news of the week aside from the Glacier quarter ceremony, the bureau set the 5-ounce Hot Springs silver coin pricing. The debuting coin from the new .999 fine silver series will be released on April 28 for $279.95.