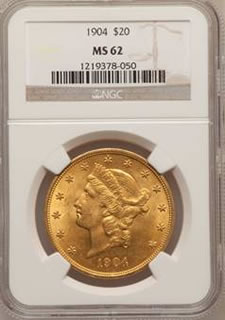 Heritage Auctions has issued a Client Advisory to its bidder-members recommending owners of gold bullion coins take action based on the current low premium prices for pre-1933 U.S. gold coins.
"Hundred-year-old U.S. eagles and double eagles can be bought right now for premiums as low as 8 to 12%, while common U.S. Eagles minted last week wholesale at about 3% over melt," said Jim Halperin, Co-Founder of Heritage. "Therefore, we're strongly encouraging our clients to take advantage of those numbers.

For investors with bullion in the form of modern U.S. gold coins, Canadian gold Maple Leafs or South African Krugerrands, this is a great time to trade up to semi-numismatic coins at a fraction of their normal historical premiums. Then when the premiums inevitably rise again someday, they can trade those coins for significantly more 1-ounce bullion coins than they had previously owned.

In fact, I know investors who have traded in and out of generic gold for years, and have thus added 50-100% to their number of gold ounces owned — without spending an extra dime!"
Based on the most recent 9 Year Coin Premium Analysis attached to this advisory (see PDF), pre-1933 U.S. gold semi-numismatic coins can be had for premiums as low as one-quarter of the premiums those same coins held just a couple years ago, and well below 50% of their historical norms.
"That adds up quickly," said Halperin. "We strongly recommend buyers take a close look at their holdings and act accordingly, whether via Heritage or their own coin dealer."
The market, according to Heritage gold specialists, is unlikely to stay at this level for long, with premiums perhaps rising again in the coming weeks or months, making it imperative that owners who wish to trade bullion for semi-numismatic generics act quickly.
"These historic low premiums are based on a few different and quite temporary factors," said Halperin, "including profit-taking and the somewhat disorderly dispersement of a large hoard of European holdings. It's certain that these premiums are not going to last."
Heritage specialists are available to advise clients and potential clients at 800-872-6467 ext 1335, or email Doug@HA.com.
About Heritage Auctions
Heritage Auctions, headed by Steve Ivy, Jim Halperin and Greg Rohan, is the world's third largest auction house, with annual sales more than $600 million, and 500,000+ registered online bidder members. For more information about Heritage Auctions, and to join and gain access to a complete record of prices realized, along with full-color, enlargeable photos of each lot, please visit HA.com.