U.S. gold rallied to an early record Monday but later retreated, breaking a string of four straight record closings. Silver prices fell significantly from earlier highs but held just enough ground to settle at a fresh 31-year high. Profit-taking was among the factors analysts' cited in pressuring metals.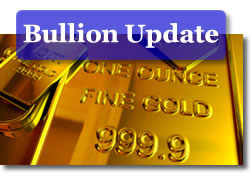 June gold prices lost $6.00, or 0.4 percent, to settle at $1,468.10 an ounce on the Comex in New York. Gold traded between $1,465.40 and $1,478.00.
"People are quick to take profit when gold reaches a record," Matthew Zeman, a strategist at Kingsview Financial in Chicago, said and was quoted on Bloomberg. "The silver market is the one everyone is in love with and afraid of missing the boat. People fully expect silver to get to $50."
Silver prices for May delivery rose four-tenths of a cent to $40.612 an ounce — its sixth straight closing at a 31-year high. Silver prices ranged between $40.565 and $41.975.
"There is a lot of retail flows into silver products, particularly coins. Many smaller investors are allocating more of their portfolios to silver today," Robert Lutts, Chief investment officer of Cabot Money Management, said according to Reuters.
The last time silver closed lower was when it lost 15.6 cents to settle at $37.732 an ounce on April 1. In regards to silver prices, Jon Nadler, Senior Analyst at Kitco Metals Inc, noted in a daily commentary that:
Elliott Wave analysis issued late on Friday pointed to the fact that "one would expect sentiment extremes at the outer edge of a vertical price rise as a broad consensus solidifies that believes in even higher prices. Silver is there. There is no wave relationship that we can discuss, but when the trend reversal comes, it will consist of a crash, similar to the behavior of every other reversal after a commodity spike top."
Platinum prices for July delivery lost $19.30, or 1.1 percent, to $1,792.80 an ounce. Prices ranged between $1,791.80 and $1,821.90.
Palladium prices for June delivery fell $5.95, or 0.7 percent, to end at $788.25 an ounce. They hit an intraday low of $785.40 and a high of $805.25.
London PM fix bullion prices were mixed Monday as compared to their PM fixings on Friday.
The PM gold fix lost $1.50 at $1,468.00 an ounce. Silver made up ground in London to cover the distance it had moved in New York on Friday. Silver advanced $1.150 at $41.370 an ounce.
In other metal prices in London, the platinum fix declined $1.00 at $1,802.00 an ounce and palladium fell $3.00 at $795.00 an ounce.
Two-thirds of the available U.S. Mint bullion coins registered sales increases Monday. From highest to lowest, gainers were Silver Eagles (624,000), one-tenth ounce Gold Eagles (5,000), one-ounce Gold Eagles (4,500) and American Buffalo Gold bullion Coins (3,000). The latest U.S. Mint bullion coin sales figures follow:
U.S. Mint 2011 Bullion Coin Sales
April 2011
YTD 2011
American Eagle Gold Coin (1 oz)
43,000
306,500
American Eagle Gold Coin (1/2 oz)
0
21,000
American Eagle Gold Coin (1/4 oz)
0
38,000
American Eagle Gold Coin (1/10 oz)
10,000
170,000
American Gold Buffalo Coin (1 oz)
6,000
44,000
American Eagle Silver (1 oz)
1,374,000
13,803,000