As silver prices shot over $40 an ounce on Friday, the United States Mint suspended the sale of two of its silver products.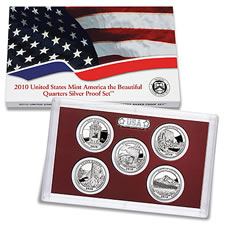 The US Mint online store shows a hold on its 2010 Silver Proof Set and 2010 America the Beautiful Quarters Silver Proof Set, indicating they are "temporarily unavailable."
The US Mint last suspended the sale of silver products in mid-March when the agency implemented new pricing following previous 31-year highs as silver prices reached just over $35 an ounce. Then, the Quarters Silver Proof Set price was raised $7 to $39.95 and the annual Silver Proof Set advanced $8 to $64.95.
Both of these sets include quarters which are composed of 90 percent silver, accounting for 0.904 ounces of the precious metal. The annual Silver Proof Set also includes a dime and half dollar with silver, giving it a total of 1.338 ounces of the metal. Using the current silver spot price of $40.59 an ounce, the two sets now have melt values of $36.70 and $54.32, respectively, as compared to their intrinsic melt values of nearly $32 and $47 following their previous price increases.
Both of the 2011-dated versions of the sets are still on sale, as they were released at higher prices.
The US Mint does have a published pricing policy in place for its gold and platinum numismatic products, as it will increase or decrease such product prices once a week if the weekly average of precious metals prices shifts significantly higher or lower. It does not have a published pricing policy for its silver offerings. Before silver product prices change, the products are typically suspended until a review takes place and a notice is given on the Federal Register, which is an official daily publication for rules, proposed rules, and notices of Federal agencies and organizations. This can sometimes take several days.