U.S. precious metals advanced Monday. Gold rose the least at 0.3 percent. Silver prices soared the most at 2.0 percent as they reached a new 31-year high and closed near $38.50 an ounce. Gains in metals were attributed mostly to inflation concerns.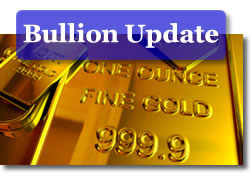 June gold prices advanced $4.10 to $1,433.00 an ounce on the Comex in New York. Gold traded between $1,429.10 and $1,440.30.
"There is no question that the inflation factor is supporting gold," Bruce Dunn, vice president of precious metals dealer Auramet Trading, was quoted on Reuters. "Both gold and silver are benefiting from speculative buying and good demand from physical bars and coins."
"Crude oil has led most other commodity futures markets higher recently, which has produced heightened inflationary concerns. There is also increasing rhetoric coming from some of the major central bankers of the world, regarding the tightening of monetary policy to ward off price inflation," noted Jim Wyckoff of Kitco News. "There is a key European central bank meeting taking place later this week, and traders will be looking for any fresh pronouncements on EU interest rates and/or monetary policy. Inflation has historically been bullish for the precious metals markets."
Silver prices for May delivery surged 76.2 cents to settle at $38.494 an ounce. Silver prices ranged between $37.810 and $38.620 — its best level since 1980.
Platinum prices for July delivery rose $10.10, or 0.6 percent, to $1,787.00 an ounce. Prices ranged between $1,765.00 and $1,792.80.
Palladium prices for June delivery ended up $9.35, or 1.2 percent, to $784.40 an ounce. They hit an intraday low of $775.05 and a high of $790.30.
London PM fix bullion prices also rose across the board when compared to their PM fixings on Friday.
The PM gold fix added $17.50 at $1,435.50, the silver fixing rose 83 cents at $38.460 an ounce, platinum advanced $8.00 at $1,781.00 an ounce, and palladium gained $13.00 at $785.00 an ounce.
Sales advanced on Monday for four of six United States Mint bullion coins. American Silver Eagles rose the most, up 608,500. They topped 13 million for the year. One-ounce 22-karat American Gold Eagle coins came in second at 6,500. The one-tenth ounce size also advanced 5,000. The 24-karat American Gold Buffalo bullion coin added 3,000.
United States Mint bullion sales figures follow.
U.S. Mint 2011 Bullion Coin Sales
April 2011
YTD 2011
American Eagle Gold Coin (1 oz)
25,500
289,000
American Eagle Gold Coin (1/2 oz)
0
21,000
American Eagle Gold Coin (1/4 oz)
0
38,000
American Eagle Gold Coin (1/10 oz)
5,000
165,000
American Gold Buffalo Coin (1 oz)
3,000
41,000
American Eagle Silver (1 oz)
658,500
13,087,500
On the numismatic coin front, the Mint on Friday issued its annual America the Beautiful Quarters Silver Proof Set for a price of $41.95. The set includes this year's quarters struck in proof qualities. Each coin is composed of 90 percent silver. The set includes just over 0.9 troy ounces of silver.