U.S. gold attempted a seventh day of straight gains Thursday as it reached a fresh record early, but the yellow metal later retreated and posted a slight 0.2 percent loss.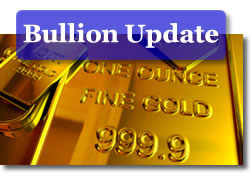 Silver moved its consecutive winning streak to five days as it soared over $38 an ounce before paring gains as it stepped back toward $37 to register a much more modest 0.5 percent pick-up.
April gold prices declined $3.10 to $1,434.90 an ounce on the Comex in New York. Gold prices reached as high as $1,448.60 an ounce, which was a new all-time high record.
"The gold price is currently supported by safe-haven demand, stemming from three current crises — Libya and more generally unrest in the Middle East/North Africa region, Japan and renewed concerns over the periphery of Europe, particularly Ireland and Portugal," BNP Paribas analyst Anne-Laure Tremblay was quoted as saying on Reuters.
Silver prices for May delivery rose 17.7 cents to settle at $37.375 an ounce. Silver prices traded as low as $37.200 and a high of $38.180.
"Gold and silver are justifying their reputation as safe havens," Carsten Fritsch, an analyst at Commerzbank AG in Frankfurt, said in a report cited on Bloomberg. "In addition to the war in Libya, the unrest in the Arab region and the disaster in Japan, the debt crisis in euro-zone periphery countries has also returned with a vengeance. Gold and silver are likely to profit further."
Platinum prices for April delivery remained unchanged at $1,760.00 an ounce. Prices ranged from $1,750.50 to $1,768.60.
Palladium prices for June delivery ended up $2.95, or 0.4 percent, to $752.25 an ounce. Palladium traded between $746.30 and $761.85.
All London fix precious metals prices advanced when comparing their latest to previous PM fixings.
The London gold fix rose $7.50 to $1,447.00 an ounce. Silver surged $1.20 to $37.780 an ounce. The platinum fix climbed $18.00 to $1,762.00 an ounce. The palladium fixing advanced $19.00 to $758.00 an ounce.
Buyers on Thursday purchased more United States Mint bullion American Eagles and bullion American Buffalo Gold coins. The one-ounce Gold Eagle added 2,500 and the one-tenth ounce Gold Eagle rose 5,000. The gold Buffalo advanced 3,000. American Silver Eagle bullion coins grew by 47,500 after several days of silence. The latest United States Mint bullion coin sales figures follow:
U.S. Mint 2011 Bullion Coin Sales
March 2011
YTD 2011
American Eagle Gold Coin (1 oz)
49,000
252,000
American Eagle Gold Coin (1/2 oz)
4,000
17,000
American Eagle Gold Coin (1/4 oz)
20,000
38,000
American Eagle Gold Coin (1/10 oz)
35,000
155,000
American Gold Buffalo Coin (1 oz)
35,000
35,000
American Eagle Silver (1 oz)
2,117,000
11,799,000