U.S. gold futures rallied for a fourth straight day on Monday, hitting their highest price in more than a week as they climbed 0.7 percent. Silver was the best performing precious metal, returning to $36 an ounce as it jumped 2.7 percent.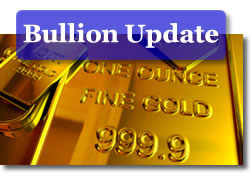 April gold prices rose $10.30 to close at $1,426.40 an ounce on the Comex in New York. Gold prices traded at a low of $1,423.50 and at a high of $1,435.10. The metal was bolstered by a falling dollar, higher oil prices and continued safe-haven buying, opined analysts.
"You can't deny the escalating Middle East problems and the oil price are all supportive factors, but I wonder whether the big jump (in the gold price) is more weaker dollar-related," Credit Agricole analyst Robin Bhar, was quoted on Reuters. "It's all contributing to the safe-haven bid, and this week is going to be important … geopolitical risk factors are uppermost in people's minds," Bhar said.
Silver prices for May delivery gained 94.3 cents, or 2.7 percent, to $36.001 an ounce. Silver ranged between $35.355 and $36.180. Silver on March 7 reached its best price since 1980 at $36.745 an ounce.
"While gold and silver are bolstered by numerous geopolitical events worldwide, they continue to face significant resistance at their old highs," Peter Grandich, editor of The Grandich Letter, said according to MarketWatch. "It's a coin toss right now if they can get through them."
Platinum prices for April delivery advanced $21.50, or 1.2 percent, to settle at $1,744.90 an ounce. Prices reached an intraday low of $1,723.40 and a high of $1,754.70.
Palladium prices for June delivery rose $11.10, or 1.5 percent, to $742.30 an ounce. It traded between $731.00 and $748.00.
Precious metal gains in PM London fix prices were healthier as compared to their previous PM fixings.
The London gold fix added $12.00 to $1,432.00. Silver surged $1.010 to $36.160 an ounce. The platinum fixing gained $21.00 to $1,741.00 an ounce. Palladium added $16.00 to $743.00.
United States Mint bullion coin sales advanced nearly across the board on Monday. The only coin to remain unchanged was the one-half ounce American Gold Eagle. The one-ounce, one-fourth ounce and one-tenth ounce rose 4,500; 10,000; and 5,000, respectively. The bullion American Silver Eagle coin surged 652,500 and is nearly the 12 million year-to-date mark. Finally, the American Gold Buffalo, which was released one week ago, advanced 5,000.
U.S. Mint 2011 Bullion Coin Sales
March
2011 Totals
American Eagle Gold Coin (1 oz)
44,500
247,500
American Eagle Gold Coin (1/2 oz)
4,000
17,000
American Eagle Gold Coin (1/4 oz)
20,000
38,000
American Eagle Gold Coin (1/10 oz)
30,000
150,000
American Gold Buffalo Coin (1 oz)
31,000
31,000
American Eagle Silver (1 oz)
2,069,500
11,731,500
In other United States Mint coin news, the bureau increased silver product prices due to higher silver prices.