U.S. gold prices climbed for a second day and returned to above $1,400 an ounce on Thursday, but silver failed to extend its gains from Wednesday and reached as low as $33.64 an ounce.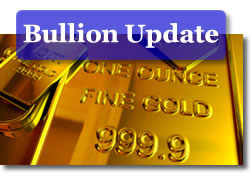 April gold prices added $8.10, or 0.6 percent, to settle at $1,404.20 an ounce on the Comex in New York. Gold had not closed above $1,400 since Monday. It traded as low as $1,386.80 and as high as $1,405.40. The metal was boosted by a weakened dollar, higher oil prices and safe-haven buying, according to analysts.
"You have the bargain hunters coming in as the Middle East is going up in flames," Frank McGhee, the head dealer at Integrated Brokerage Services LLC in Chicago, said and was quoted on Bloomberg. "Gold is still very susceptible to waves of asset liquidation as Japan repatriates assets."
"If more uncertainty does play out in the marketplace, we may finally see gold catch fire, and if the dollar continues to fall, I think gold will continue to find support," Jeffrey Pritchard, analyst at futures broker Altavest, was cited on Reuters.
Silver prices for May delivery lost 21.4 cents, or 0.6 percent, to $34.258 an ounce. Silver hit a high of $34.695.
Platinum prices for April delivery rose $6.40, or 0.4 percent, to close at $1,706.90 an ounce. Prices hit an intraday low of $1,658.00 and a high of $1,710.60.
Palladium prices for June delivery rallied $11.75, or 1.7 percent, to $716.80 an ounce. It traded between $687.00 and $721.50.
Three of four precious metals declined in London when comparing Thursday's PM fixing prices to those of Wednesday. Gold was the single metal to gain. The London PM gold fix price rose $1.75 to $1,403.75. Silver declined 26 cents to $34.47 an ounce. Platinum and palladium fell the most. The platinum fixing was $1,697.00 an ounce for a loss of $29 and the palladium fixing was $712.00 an ounce for a loss of $7.00.
United States Mint bullion coin sales figures remained unchanged from Wednesday, including the new Buffalo issue. (Read about the 2011 Gold Buffalo bullion coin release on Monday for a close look at its historic mintage and sales trends.)
The latest gold coin sales and silver coin sales as published by the United States Mint follow.
U.S. Mint 2011 Bullion Coin Sales
March
2011 Totals
American Eagle Gold Coin (1 oz)
35,500
238,500
American Eagle Gold Coin (1/2 oz)
4,000
17,000
American Eagle Gold Coin (1/4 oz)
10,000
28,000
American Eagle Gold Coin (1/10 oz)
25,000
145,000
American Gold Buffalo Coin (1 oz)
21,500
21,500
American Eagle Silver (1 oz)
1,417,000
11,079,000