U.S. gold and silver prices were little changed Monday as gold climbed 0.2 percent and silver dipped 0.3 percent. Platinum and palladium, however, faltered heavily on industrial demand concerns following Japan's earthquake. The metals fell 1.7 and 2.3 percent, respectively.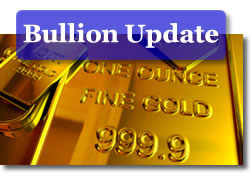 April gold prices edged up $3.10 to close at $1,424.90 an ounce on the Comex in New York. Gold was traded as low as $1,418.20 and as high as $1,433.50.
"Gold … remains well bid due to all the uncertainty in the world, led by Japan's possible nuclear meltdown. The Middle East crisis still looms though it is no longer the lead story on the headlines," Miguel Perez-Santalla, vice president of Heraeus Precious Metals Management, said and was quoted on Reuters.
Silver prices for May delivery retreated 9.5 cents to close at $35.840 an ounce. It ranged between $35.500 and $36.505.
Silver "prices closed near mid-range and saw mild profit-taking pressure. The silver bulls have the strong overall near-term technical advantage," noted Jim Wyckoff of Kitco News. "There are still no early technical clues to suggest a market top is close at hand. Prices are in a steep six-week-old uptrend on the daily bar chart. The next downside price breakout objective for the bears is closing prices below solid technical support at last week's low of $34.05. Bulls' next upside price objective is producing a close above solid technical resistance at last week's high of $36.745 an ounce."
Platinum prices for April delivery declined $29.40 to close at $1,752.30 an ounce. Prices ranged between $1,739.90 and $1,787.00.
Palladium prices for June delivery fell $17.30 to $748.20 an ounce. It hit an intraday low of $745.45 and a high of $763.55.
London PM fix prices were mixed for precious metals when compared to their previous PM fixings. The gold fix added $10.75 at $1,422.25 an ounce. Silver surged $2.08 at $36.180 an ounce. Platinum lost $15.00 at $1,762.00 an ounce. Palladium fell $2 at $752 an ounce.
The United States Mint did not publish updated sales figures for its bullion coins, although Monday was the launch date for its 2011-dated American Buffalo Gold Bullion Coin.
The latest bullion sales figures as provided by the Mint on Friday follow.
U.S. Mint 2011 Bullion Coin Sales
March
2011 Totals
American Eagle Gold Coin (1 oz)
30,500
233,500
American Eagle Gold Coin (1/2 oz)
4,000
17,000
American Eagle Gold Coin (1/4 oz)
10,000
28,000
American Eagle Gold Coin (1/10 oz)
5,000
125,000
American Eagle Silver (1 oz)
717,000
10,379,000