"December 7, 1941 — a date which will live in infamy — the United States of America was suddenly and deliberately attacked…" These words of President Franklin Delano Roosevelt will forever be associated with the World War II attack on United States forces based at Pearl Harbor, Hawaii that resulted in the death of well over 2,000 U.S. Military men and the wounding of over a thousand.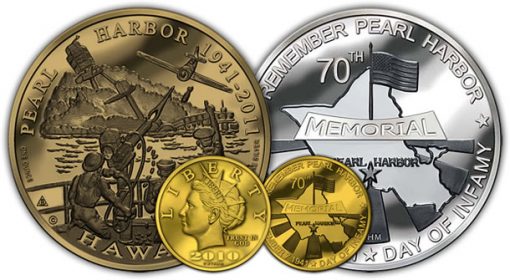 As one of many ways of signifying the importance of the day, the Pearl Harbor Survivors Association authorized the Royal Hawaiian Mint to issue three medals commemorating the 70th anniversary of the attack on Pearl Harbor. The medals will be issued during a "Year of Remembrance" leading up to the 70th anniversary from December 7, 2010 to December 7, 2011.
Pearl Harbor 70th Anniversary Commemorative Medal Details
Gold, silver and bronze medals have been created for the release. The bronze and silver strikes each have a diameter of 39mm with the proof silver piece containing one ounce of .999 fine silver. The proof gold medal contains one-tenth ounce of .9999 fine gold with a diameter of 17mm. In addition to the individual medals, special sets containing more than one of the strikes is also available.
The obverse of each bronze and silver medal authorized by the Association contains an action scene showing a view of the deck of the USS Nevada with the stricken USS Arizona in the background. Two Navy sailors are depicted firing a .30 caliber Browning water cooled machine gun under the direction of an officer at an incoming Japanese plane. Surrounding the scene are the inscriptions of PEARL HARBOR 1941-2011 and HAWAII.
Each proof Gold Liberty Medal features a portrait of Lady Liberty on the obverse. Inscribed around her are LIBERTY, 2010 and TRUST IN GOD.
All three medals contain the same reverse which shows the Arizona Memorial in the center with a US flag flying above it. An outline of the Island of Oahu is included as well with the position of Pearl Harbor clearly identified. Surrounding the design are the inscriptions of 70TH, REMEMBER PEARL HARBOR, DECEMBER 7 1941 and DAY OF INFAMY.
The bronze medals are currently available for $22 each. Each one ounce proof silver medal is currently listed at $65. Finally, the three medal set which contains the Gold Liberty and the silver and bronze medals is shown for $399.
The Pearl Harbor Survivors Association was incorporated in December of 1962 and has officially been charted by the United States Congress. The purpose of which is explained on its website with:
"As long as one of us is still alive, it is the hope of most of us that there will always be a Pearl Harbor Survivors Association extolling the attributes of our beloved America."
For more information, see the official Royal Hawaiian Mint page for the medals at www.officialpearlharbor70thcommemorativeproofcoin.com or call the Mint directly at (808) 922-6468.