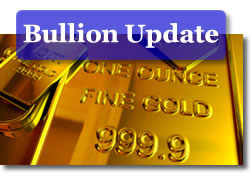 U.S. gold prices reclaimed the $1,400 an ounce level and silver prices rebounded above $27 an ounce on Thursday, one day after precious metals suffered steep losses.
Gold held gains despite a stronger U.S. dollar which was supported by renewed worries over European nation debt woes.
"Gold is resuming its role as a safe haven in times of crisis as the situations in Ireland and some European countries are getting worse. So, it has also been separating itself from the euro lately because of the safe-haven play," Donald Selkin, chief market strategist at National Securities Corp., was quoted on Reuters.
New York precious metals closing prices follow:
Gold prices for December delivery edged up $4.00, or 0.3 percent, to $1,403.30 an ounce. Gold ranged from $1,396.50 to $1,417.60.
December silver prices rallied 54 cents, or 2.0 percent, to settle at $27.405 an ounce. It ranged between $26.890 and $27.840. Silver prices dived 7.1 percent on Wednesday after the Chicago Mercantile Exchange (CME) increased silver margins from $5,000 to $6,000.
Platinum prices for January delivery added $7.90, or 0.5 percent, to end at $1,745.80 an ounce. The metal ranged from $1,733.50 to $1,774.70.
Palladium prices for December delivery advanced $7.40, or 1.1 percent, to $704.15 an ounce. It ranged between $697.10 and $722.90.
In PM London gold prices, the benchmark gold Fix was $1,398.50 an ounce. The price was $8.00 higher than the PM fixing on Wednesday. Silver was $27.750 an ounce for an increase of 22 cents. Platinum was fixed at $1,754.00 an ounce for a loss of $14.00. Palladium was $715.00 an ounce for a gain of $1.00.
"Following a volatile midweek session, precious metals regained upward momentum during the overnight hours, mainly on Irish debt-related apprehensions and despite a strengthening US dollar," said Jon Nadler, senior analyst at Kitco Metals Inc.

The euro was being "buffeted by winds of worry about the stall in Spain's economy and about Ireland's ability to repay its debt. Thus, 'somehow,' just one week after the Fed was largely seen as lighting the 'fatal fuse' under the American currency, the dollar managed its best/longest run since August," added Nadler
In gold and silver coin news, United States Mint bullion coin sales remained unchanged Thursday after an explosive surge during the prior seven days. The following are the same U.S. Mint coin sales figures that were reported on Wednesday:
U.S. Mint 2010 Gold & Silver Bullion Coin Sales
November
2010 Totals
American Eagle Gold Coin (1 oz)
31,500
1,008,500
American Eagle Gold Coin (1/2 oz)
1,000
40,000
American Eagle Gold Coin (1/4 oz)
2,000
58,000
American Eagle Gold Coin (1/10 oz)
5,000
385,000
American Buffalo Gold Coin (1 oz)
Sold Out
209,000
American Eagle Silver (1 oz)
1,590,000
30,220,500