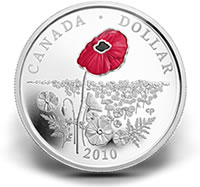 On the eleventh hour of the eleventh day of the eleventh month of 2010, the Royal Canadian Mint will join Canadians from across the country in remembering those men and women who have made the ultimate sacrifice on our behalf.
In the spirit of remembrance, the Mint has once again issued several circulation and collector products which will help Canadians preserve the memory of Canada's fallen and their undying gratitude to our surviving veterans and active troops.
"Remembrance Day gives us all an opportunity to reflect on Canada's history and the Mint is proud that its legacy of circulation and collector coins gives our fallen, our veterans and our troops a permanent and prominent place in our great nation's historical record," said Ian E. Bennett, President and CEO of the Royal Canadian Mint.

"As Canada pauses to reflect on the meaning of remembrance, the Mint is proud that the 11 million colored 2010 25-cent poppy circulation coins now in circulation solemnly honour Canada's fallen, surviving veterans and active troops."
The 2010 25-cent poppy circulation coin marks the third colored poppy circulation coin to be produced by the Mint and distributed in Canada, following the introduction of the 2004 and 2008 red poppy coins. This coin, developed in association with the Royal Canadian Legion, is one of many compelling tributes to Canada's veterans and troops to be produced by the Mint in 2010.
The Mint is proud to have created a Remembrance Day Collector Card which will help Canada's military families cope with unforeseen circumstances of active duty by generating a $5 donation to the Military Families Fund from every collector card sold. Available for $9.95 CDN, this special collector card includes the 2010 25-cent poppy circulation coin and has die-cut inserts to also hold previous colored poppy circulation coins issued in 2004 and 2008. It also includes a postage paid postcard which can be detached to send a personal message to a Canadian Forces member abroad.
On October 6, 2010 the Mint released a Limited-Edition Proof Silver Dollar featuring a brilliantly enameled red poppy, commemorating the passing of the last Canadian veteran of the First World War. This coin was limited to a worldwide mintage of 5,000.
Earlier this year, the Mint was proud to join Canadians from coast to coast to coast in celebrating the centennial of Canada's Navy. Many inspiring coins were issued in celebration of this military milestone, including:
a one-dollar commemorative circulation coin, featuring the Canadian Frigate HMCS Halifax and limited to a mintage of seven million;
a special set combining a gold-plated version of the Canadian Navy Centennial circulation coin with a pair of stamps portraying the Navy of yesteryear and of today;
the 2010 Proof Silver Dollar – 100th Anniversary of the Canadian Navy, featuring the HMCS Sackville and limited to a mintage of 50,000;
A brilliant uncirculated version of this coin, limited to a mintage of 30,000, was also produced, as was a selectively gold-plated 2010 Proof Silver Dollar coin, featured in each of the Mint's 55,000 Proof Sets offered in 2010.
Many of these inspiring collector products are still available directly from the Mint's at www.mint.ca or by calling 1-800-267-1871 in Canada or 1-800-268-6468 in the US. The coins are also available from Canada Post retail outlets and the Mint's global network of dealers and distributors.
About the Royal Canadian Mint
The Royal Canadian Mint is the Crown Corporation responsible for the minting and distribution of Canada's circulation coins. An ISO 9001-2008 certified company; the Mint is recognized as one of the largest and most versatile mints in the world, offering a wide range of specialized, high quality coinage products and related services on an international scale. For more information on the Mint, its products and services, visit www.mint.ca.