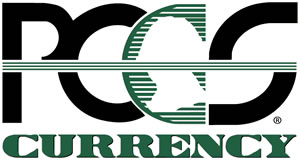 The newest resource for paper money collectors now is available online. The population of serial block numbers now is included in the PCGS Currency Population Report, an authoritative listing by grade of more than 250,000 notes authenticated and certified by PCGS Currency (www.PCGScurrency.com).
Updated daily and available by subscription to members of the PCGS Currency Collectors Club and all PCGS Currency Authorized Dealers, the new "Pop by Block" feature gives collectors and Small Size U.S. currency specialists the opportunity to view PCGS Currency grade populations by serial number block.
"Our new 'Pop by Block' population report expands the many resources available to our members," said PCGS Currency Vice President Laura A. Kessler.

"With its ease of navigation and 24 hour availability at your fingertips, collectors can quickly find pertinent information for over 150,000 Small Size notes by block. Our initial Small Size series release includes Legal Tender, Silver Certificate, Federal Reserve Bank Note, Federal Reserve Note, World War II Emergency Note, and Gold Certificate categories."
The data for Large Size notes by serial number block will be released soon. There are also plans by PCGS Currency to make available the population data for Canadian notes by serial number block.
"A great deal of work has gone into this project," stated Jason W. Bradford, President of PCGS Currency.

"Our experts have gone over the data line-by-line to ensure the accuracy of this report. The PCGS Currency Population Report expansion to include serial number blocks will provide collectors the opportunity to gather more information and accurately gauge the relative scarcity of specific blocks by grade."
PCGS Currency Collectors Club members are available online at www.PCGScurrency.com/club.htm, or you can join by calling (309) 222-8200.
All PCGS Currency Collectors Club members can submit notes directly to PCGS Currency, access the Population Report and receive a free sample note and a copy of the PCGS Currency Grading Standards Guide.