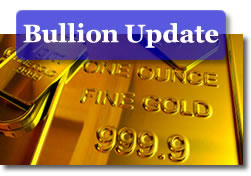 Gold and silver prices on Thursday were hit hard for a second time this week.
A stronger dollar and profit taking were among the cited reasons for a 1.4 percent decline in the yellow metal. Silver experienced its biggest lost in nearly three months, dropping 3 percent — the most of the precious metals.
In other markets, oil was off 2.4 percent after surging 2.8 percent on Wednesday while U.S. stocks edged higher. The Dow rose 0.35 percent, the S&P gained 0.18 percent, and the Nasdaq ended up 0.09 percent.
New York precious metals closing prices follow:
Gold futures for December delivery fell $18.60 to $1,325.60 an ounce on the Comex in New York. It ranged from $1,320.10 to $1,349.60.

December silver plummeted 72.5 cents to close at $23.139 an ounce. It ranged between $23.030 and $24.075. Silver's daily loss was its largest since July 27, 2010.

Platinum for January delivery lost $13.90, or 0.8 percent, to finish at $1,673.40 an ounce. It ranged from $1,666.20 to $1,696.40.

Palladium for December delivery declined $4.35, or 0.7 percent, to $586.30 an ounce. It ranged between $584.30 and $599.85.
In notable bullion quotes of the day:
"The metals are getting smacked," Adam Klopfenstein, a senior market strategist at Lind-Waldock in Chicago, was quoted on Bloomberg. "The magnitude of the decline isn't equal to the gains in the dollar, but the gold market was looking for an excuse to correct."

"There have been a lot of investors going into gold already and probably at this juncture, would probably be a little hesitant, because now everyone is focusing on currency moves," Ole Hansen, a senior manager at Saxo Bank was quoted on Reuters
In PM London bullion prices, the benchmark gold Fix was $1,343.50 an ounce, rising $4.50 from Wednesday. Silver was $23.900 an ounce for an increase of 19 cents. Platinum was up $12.00 to $1,682.00 an ounce. Palladium was $596.00 an ounce, gaining $15.00.
For the first day in many weeks, the United States Mint published no additional sales of its bullion coins. The fastest selling Silver Eagles have remained silent since Tuesday. Current figures follow:
U.S. Mint 2010 Bullion Coin Sales
October
2010 Totals
American Eagle Gold Coin (1 oz)
65,000
952,500
American Eagle Gold Coin (1/2 oz)
3,000
39,000
American Eagle Gold Coin (1/4 oz)
0
54,000
American Eagle Gold Coin (1/10 oz)
25,000
380,000
American Buffalo Gold Coin (1 oz)
Sold Out
209,000
American Eagle Silver (1 oz)
2,000,000
27,480,500
Oil and gasoline prices
A variety of factors were cited Thursday for a decline in New York oil prices, with no single item shooting to the top other than uncertainty.
"The oil market appears exhausted after two very volatile trading days and there is uncertainty about the price direction." Gene McGillian, analyst, Tradition Energy, Stamford, Connecticut, was quoted on Reuters.
Crude futures for December delivery lost $1.98 to finish at $80.56 a barrel.
The national average for regular unleaded gasoline remained unchanged at $2.831 a gallon, according to AAA fuel data. The price is three-tenths of a cent more than last week, 11.0 cents higher than a month back, and 23.5 cents above the price from a year ago.
U.S. Stocks
U.S. stocks climbed slightly as bank shares moved lower yet corporate earnings reports were mostly stronger. The size of expected quantitative easing by the Fed in November was also a topic of discussion.
"Geithner hinting that the dollar isn't as weak as we thought is making people start to think quantitative easing is going to be smaller than expected," Dave Rovelli, managing director of U.S. equity trading at Canaccord Adams, said and was quoted on CNNMoney.com. "Markets have been banking on a huge printing of money, so if it's smaller, that's good for the dollar but bad for stocks."
The Dow Jones industrial average added 38.60 points to 11,146.57. The S&P 500 Index rose 2.09 points to 1,180.26. The Nasdaq Composite Index edged up 2.28 points to 2,459.67.