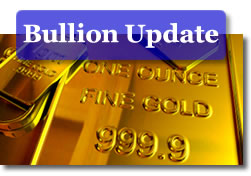 U.S. gold notched another all-time record high on Thursday, closing above $1,377 an ounce after briefly reaching as high as $1,388.10. The yellow metal was again supported by weakness in the U.S. dollar which tumbled to its lowest level since December.
Silver prices soared for a second day, jumping 2.1 percent to hit a fresh 30-year high. At its best level, the metal was only 5 cents away from $25 an ounce. That, after closing to $23.932 an ounce on Wednesday.
In other markets, crude oil dropped for the third time this week after the EIA reported weaker-than-expected demand. U.S. stocks finished modestly lower. The Dow was off 0.01 percent, the S&P 500 lost 0.36 percent, and the Nasdaq declined 0.24 percent.
New York precious metals closing prices follow:
Gold futures for December delivery rose $7.10, or 0.5 percent, to $1,377.60 an ounce on the Comex in New York. Its lowest intraday price was $1,371.10.

December silver surged 50.3 cents to close at $24.435 an ounce. It ranged between $23.995 and $24.950.

Platinum for January delivery climbed $5.20, or 0.3 percent, to close at $1,712.60 an ounce. It ranged from $1,701.10 to $1,727.60.

Palladium for December delivery advanced $7.90, or 1.3 percent, to $601.55 an ounce. It ranged between $595.85 and $605.00.
In notable bullion quotes of the day:
"There is a distrust of currencies, and gold is the only solution," Bernard Sin, the head of currency and metal trading at bullion refiner MKS Finance SA in Geneva, said and was quoted on Bloomberg. "A lot of money is going into precious metals," and there's demand from India because of the country's festival season, he said.

"The irony is that investors seem to be buying gold on fears of both inflation and deflation as well as when the U.S. dollar is rising and falling," analysts at Deutsche Bank said in a note to clients that was cited on MarketWatch. "This is naturally raising concerns that the move in the gold price threatens to become increasingly irrational." Gold, however, is a "safe one-way trade," regardless of whether the expected move to buy bonds to help spur the economy happens, they said.
In PM London bullion prices, the benchmark gold Fix was $1,373.25 an ounce for a gain over Wednesday of $7.75. Silver was $24.490 an ounce for an increase of 96 cents. Platinum advanced $12.00 to $1,708.00 an ounce. Palladium was $598.00 an ounce, rising $11.00.
In coin news Thursday, buyers purchased fewer ounces of U.S. Mint bullion coins than during the prior day. For the one-ounce sizes, Gold Eagles added 5,000 versus 11,000 and Silver Eagles went up 90,000 against 125,000. The silver coins could smash 27 million for the year by Friday. The following are current October sales figures from the United States Mint.
U.S. Mint 2010 Bullion Coin Sales
October
2010 Totals
American Eagle Gold Coin (1 oz)
54,000
941,500
American Eagle Gold Coin (1/2 oz)
3,000
39,000
American Eagle Gold Coin (1/4 oz)
0
54,000
American Eagle Gold Coin (1/10 oz)
20,000
375,000
American Buffalo Gold Coin (1 oz)
Sold Out
209,000
American Eagle Silver (1 oz)
1,440,000
26,920,500
Oil and gasoline prices
New York oil prices fell Thursday following a report from the Energy Information Administration that showed weaker-than-expected demand. Crude futures for November delivery lost 32 cents, or 0.4 percent, to $82.69 a barrel.
"The report was relatively bearish with gasoline demand lower, while the fall in crude inventories was due to lower imports, so we saw markets turn negative on that," Matt Smith, a commodity analyst with Summit Energy Services was quoted on MarketWatch.
The national average for regular unleaded gasoline advanced eight-tenths of a cent to $2.828 a gallon, according to AAA fuel data. The price is 6.0 cents more than last week, 11.1 cents higher than a month back, and 34.7 cents above the price from a year ago.
U.S. Stocks
U.S. stocks retreated Thursday, with concerns over jobs and the foreclosures crisis cited as factors.
"I don't see a fundamental economic hit to the (financial) companies as of yet," Erick Maronak, chief investment officer at Victory Capital Management, was quoted on CNNMoney.com. "But the foreclosure stories have certainly gone against the banks this week. "The highlight today is the jobs report," he said. "Psychologically, that's probably the most important metric that investors and company executives are looking at."
The Dow Jones industrial lost 1.51 points to 11,094.57. The S&P 500 declined 4.29 points to 1,173.81. The Nasdaq Composite ended down 5.85 points to 2,435.38.