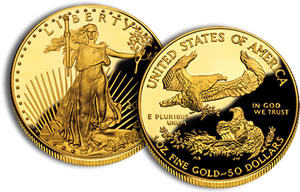 The United States Mint has announced that the 2010 American Eagle Gold Proof Coin series will go on sale Thursday, October 7, 2010, at 12:00 noon Eastern Time. The news is welcome to coin collectors who remember that last year's proof eagles were canceled.
The US Mint will offer four different sizes of the 22-karat gold coins, with each at different price points and with their own mintage limits. Additionally, buyers can purchase a four-coin set that includes all the eagles in a single attractive presentation case.
2010 Proof Gold Eagle sizes include one-ounce, half-ounce, quarter-ounce and tenth-ounce. The Mint began producing the the coins earlier this month. While no per household limits will be in place, the following table provides the official mintage limits for each gold piece and the four-coin set:
PRODUCT
LIMIT
MINTAGE
LIMIT
1 Ounce Gold Eagle
25,000
64,000
1/2 Ounce Gold Eagle
15,000
54,000
1/4 Ounce Gold Eagle
16,000
55,000
1/10 Ounce Gold Eagle
27,000
66,000
Four-Coin Set
39,000
N/A
As gold numismatic or collector offerings, pricing for each coin will be based primarily on the prevailing cost of gold. The London Fix gold average from Thursday, September 30, to Wednesday, October 6 will be used. As of this writing, the spot price of gold is hovering around $1276 an ounce. The following table from the US mint coin pricing guide provides possible prices for the coins based on surrounding gold averages:
Average Price of Gold
2010 Proof Gold Eagle Size
2010 Proof Gold Eagle Price
$1200.00
to
$1249.99
1 oz
$1485.00
1/2 oz
$756.00
1/4 oz
$390.50
1/10 oz
$170.50
4 coins
$2753.00
$1250.00
to
$1299.99
1 oz
$1535.00
1/2 oz
$781.00
1/4 oz
$403.00
1/10 oz
$175.50
4 coins
$2845.50
$1300.00
to
$1349.99
1 oz
$1585.00
1/2 oz
$806.00
1/4 oz
$415.50
1/10 oz
$180.50
4 coins
$2938.00
When available, orders can be placed at the Mint's Web site (http://www.usmint.gov/catalog) or by calling 1-800-USA-MINT (872-6468).