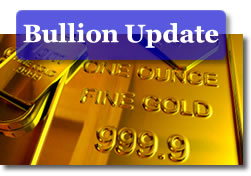 U.S. gold prices on Wednesday rose $7.90 and toward an eight-week high as new home sales declined to a more than expected 12.4 percent in July, encouraging another round of safe-haven buying. Gold prices were lifted the prior day after data showed that existing home sales plunged 27.2 percent last month.
Other precious metals advanced as well, with price gains of 3.5 percent for silver, 0.6 percent for platinum, and 1.5 percent for palladium.
Meanwhile in other markets, crude oil broke a streak of five declining days to rise 1.2 percent while U.S. stocks staged a comeback with the major indexes gaining between 0.19 and 0.85 percent.
New York precious metals closing prices follow:
Gold for December delivery added 0.6 percent to $1,241.30 an ounce. It ranged from $1,230.90 to $1,243.40 — the highest price since July 1, 2010.

September silver soared 64.8 cents to end at $19.026 an ounce. It ranged between $18.345 and $19.040.

Platinum for October delivery advanced $9.70 to finish at $1,527.40 an ounce. It ranged from $1,511.00 to $1,533.00.

September palladium surged $7.30 to $491.55 an ounce. It ranged between $483.95 and $495.60.
In notable bullion quotes of the day:
"The fear is palpable," Leonard Kaplan, the president of Prospector Asset Management in Evanston, Illinois, said and was quoted on Bloomberg. "The economy is really faltering. People are worried about the stock market. Money has to go somewhere and it's going to gold."
"It's trite to say it, but silver really is performing as the poor man's gold right now," Charles Nedoss, a senior market strategist with Olympus Futures in Chicago, said and was quoted on MarketWatch.
"Investment related demand continues to largely define the current gold fundamentals equation and it remains the one upon which the market has become hugely dependent. Not necessarily a good thing, at all," noted Jon Nadler, senior analyst at Kitco Metals, Inc.

"A quick glance at the latest WGC graphs shows a sharp spike in investment demand for gold in Q2, following four trimesters' worth of steady, near 700 tonne/quarter demand. The most significant spike in such demand was noted in the first quarter of last year, when huge ETF offtake helped bring the tally to just above 1,300 tonnes."
Gold demand in Q2 2010 jumped 36 percent, the World Gold Council (WGC) said today. The WGC expects that the demand for the yellow metal "will remain robust during 2010 as a result of accelerating demand from India and China, as well as increasing global investment demand driven by continuing uncertainty over public debt and economic recovery."
In PM London bullion, the benchmark gold price was fixed to $1,237.50 an ounce, rising $15.50 from the PM price on Tuesday. Silver gained 75 cents to $18.630 an ounce. Platinum settled at $1,516.00 an ounce, adding $22.00. Palladium rose $14.50 to $490.50 an ounce.
Oil and gasoline prices
Crude oil prices rebounded to rise above $72 a barrel after following below the level in the prior session for the first time in seven weeks.
"I would not be surprised to see prices dropping to the $65-to-$70 range for a period of time and then coming back," Edward Morse, the New York-based head of commodities research at Credit Suisse Group AG, said and was quoted on Bloomberg. "What would be surprising is if prices slipped below $65 for any length of time. I think if they did, we would start to hear noises out of OPEC."
New York crude oil for October delivery advanced 89 cents to $72.52 a barrel.
The national average for regular unleaded gasoline fell six-tenths of a cent for a second straight day to $2.696 a gallon, according to AAA fuel data. The price is 4.1 cents lower than a week ago, 4.6 cents down from a month back, but 7.3 cents higher than the price from a year ago.
U.S. Stocks
U.S. stocks closed higher Wednesday after spending much of the day down with the aforementioned new housing data in play.
"We think the reaction of the homebuilder stocks to yesterday's existing home sales data (up in a down tape) and the reaction to today's NHS data suggests a bottom is in on the stocks barring a dramatic downdraft in the overall equity market," New York-based Citigroup analyst Josh Levin wrote in a note to clients that was cited on Bloomberg.
The Dow Jones industrial average rose 19.61 points, or 0.20 percent, to 10,060.06. The S&P 500 Index advanced 3.46 points, or 0.33 percent, to 1,055.33. The Nasdaq Composite Index climbed 17.78 points, or 0.84 percent, to 2,141.54.