All 10,000 of the newly released 2010 Proof Platinum American Eagles have been purchased. Still interested buyers will now see the U.S. Mint's "Waiting List" option when visiting the coin's online information page.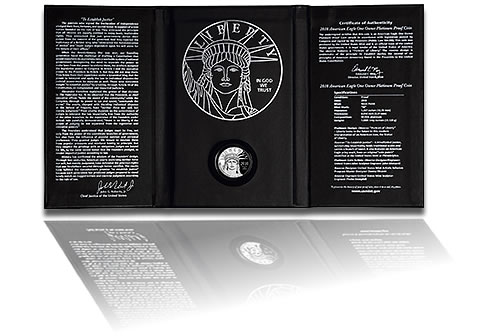 The list feature has become a staple for newly sold out products, providing an opportunity for the Mint to fulfill standby orders if older orders are canceled.
"The number of orders we have taken meets the maximum limit for the 2010 American Eagle One Ounce Platinum Proof Coin," the Mint notice states. "You may still place an order for this product, which will go on a waiting list. If a product becomes available due to an order cancellation, we will fulfill orders from the waiting list on a first-in, first-served basis."
The standby list could be in affect for days, or weeks, before the Mint officially classifies the coins as "sold out," and moves them to their no longer available product page.
The .999 fine platinum proof coins were launched one week ago — Thursday, August 12. Sales were brisk with early phone orders backed up, forcing some coin collectors to make several call backs to Mint customer service reps. By Sunday August 15, 8,268 were ordered, leaving a scant 1,732 left.
Helping their sales further was a $100 price drop on Wednesday, after the Mint adjusted its numismatic gold and platinum coin prices following changes to weekly London Fix precious metals averages.
The 2010 proof Platinum Eagles have proven to be more popular than last year's issue, which also sold out quickly. Their lower 8,000 mintage was gone in just over one week's time.