Racing fans can now hold a piece of Melbourne Cup memorabilia in their own hands thanks to the release of three collectable coins to mark the 150th anniversary of 'the race that stops the nation'™, launched as part of the Melbourne Cup Symposium in Canberra on Friday, 13 August.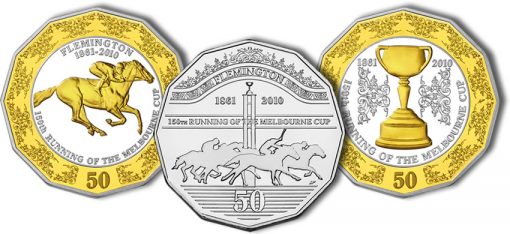 Released by the Royal Australian Mint in partnership with the Victoria Racing Club (VRC) and designed by internationally acclaimed engraver and sculptor, Wojciech Pietranik, the three 50 cent commemorative coins feature some of the great heroes and iconic references that define the Melbourne Cup legacy.
"The past 149 years of the Melbourne Cup have produced moments of incredible significance, that have not only changed the lives of those involved but left lasting memories for people across the country and around the world," said Ross MacDiarmid, Chief Executive Officer, Royal Australian Mint.
"In keeping with our long history of maintaining records, capturing moments and celebrating important achievements within Australia's rich heritage and culture, the Royal Australian Mint is proud to give all Australians the opportunity to own their very own piece of Cup history," Mr MacDiarmid said.
Race enthusiasts and coin collectors looking for a unique Melbourne Cup memento will be spoilt for choice, with both a silver coin set and single cupro nickel coin available for purchase.
The selectively gold plated coin set features two of the most enduring symbols of the great race – the legendary Phar Lap and the iconic Melbourne Cup trophy, with the individual commemorative coin depicting the heart stopping conclusion of a race, as riders and horses make their final push across the finishing line.
"The commemorative Melbourne Cup coins recognise the significance of an iconic Australian sporting event that has grown to become not just one of the greatest horse races in the world, but an integral part of our national culture," said VRC Chairman Rod Fitzroy.

"The launch of these coins is an important part of the national celebrations planned for the 150th milestone year and a fitting tribute to the legacy of 'the race that stops the nation'," Mr Fitzroy said.
The commemorative Melbourne Cup coins are available for purchase from Monday 6th September from the Royal Australian Mint Shop in Canberra, online via www.ramint.gov.au or by calling 1300 652 020. The silver selectively gold-plated two coin set and individual cupro nickel coin are priced at $165 and $8.95 respectively.
About the Royal Australian Mint

His Royal Highness, The Duke of Edinburgh, officially opened the Royal Australian Mint, Canberra, on Monday 22nd February 1965.
The Mint was commissioned to produce Australia's decimal coinage, which was to be introduced into circulation on 14th February 1966. The Royal Australian Mint holds a place in history as the first mint in Australia not to be a branch of the Royal Mint, London.