On Monday, the Bureau of Engraving and Printing (BEP) made available its Intaglio Print Subscription Program for the "150th Anniversary Series" which features three unique intaglio prints in 2012.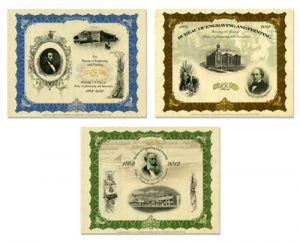 "This year's commemorative program is dedicated to 150 years of pride, craftsmanship and innovation of the Bureau of Engraving and Printing," the BEP states on its website.
Using the BEP's subscription program, the three intaglio print cards may be purchased for $51.00, which is a savings of $9 per card. Each will also be sold separately for a price of $20.00. To partake in the savings, however, customers must subscribe by May 9, 2012.
The subscription program guarantees collectors receipt of each 150th Anniversary print by having them automatically shipped following their launch.
Release dates for each of the three 150th Anniversary Series intaglio prints are:
May 10, 2012 in conjunction with the BEP's participation at the American Numismatic Association's National Money Show in Denver, Colorado
August 7, 2012 in conjunction with the BEP's participation at the American Numismatic Association's World's Fair of Money in Philadelphia, Pennsylvania.
October 18, 2012 for the third and final card
In related BEP news, the bureau announced that it has waived the household purchase restrictions for its recently issued America's Founding Fathers 2012 Currency Set. The set features a Series 2009 $1 note and a Series 2003A $2 note bearing the portraits of George Washington and Thomas Jefferson, respectively. The bills bear matching serial numbers beginning with the year "2012."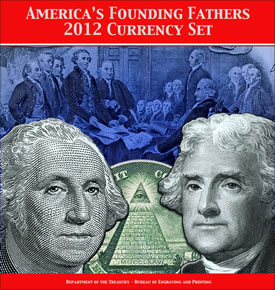 For more information on either numismatic product, or to place and order, visit the BEP online store at www.moneyfactorystore.gov.
About the BEP
The Bureau of Engraving and Printing is the largest producer of security documents in the United States. The bureau prints billions of Federal Reserve Notes for delivery to the Federal Reserve System each year. These notes are produced at facilities in Washington, DC, and Fort Worth, Texas.