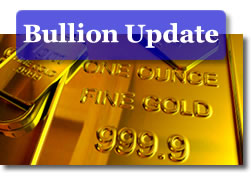 U.S. gold prices rose for a seventh straight day on Thursday, but only modestly with a $3.40 increase. The string of wins marks the longest rally this year for gold, with its latest gain brought on, opined analysts, by a weaker dollar.
Metals were mixed as a group. Silver rose 0.2 percent, platinum fell 0.9 percent, and palladium declined 0.8 percent.
A bigger than expected increase in initial jobless claims coupled with disappointing retail sales numbers were among the cited reasons for falling crude oil and slightly sliding U.S. stocks.
New York precious metals prices follow:
Gold for December delivery rose 0.3 percent to $1,199.30 an ounce. It ranged from $1,192.00 to $1,202.80.

September silver climbed 4.3 cents to end at $18.321 an ounce. It ranged between $18.185 and $18.480.

Platinum for October delivery lost $13.70 to $1,572.50 an ounce. It ranged from $1,567.00 to $1,591.00.

September palladium declined $4.10 to finish at $496.05 an ounce. It ranged between $489.00 and $500.35.
In notable bullion quotes of the day:
"Gold is stepping back into the spotlight as the dollar continues to slide lower," Matt Zeman, a metals trader at LaSalle Futures Group in Chicago, was quoted on Bloomberg. "Gold is a dollar trade now. Look for prices to go higher if the dollar weakens. If we see a stronger dollar, gold will have a difficult time."
"The weakening of the dollar helped. The inverse relationship between gold and the dollar is beginning to work in the favor of gold recently," James Steel, chief commodity analyst at HSBC said and was quoted on Reuters.

"Noise levels among the bulls are once again on the rise, despite yesterday's failure to hold above the round figure on a closing basis," noted Jon Nadler, senior analyst at Kitco Metals, Inc.

"The market appears unable to accommodate both [physical buyers and funds] armies at once. Thus, gains are seen as capped for the time being, despite unequivocal declarations that the correction has run its course." [Read Nadler's full morning commentary.]
In PM London bullion, the benchmark gold price was fixed to $1,192.50 an ounce, falling $7.00 from the price on Wednesday. Silver declined 15 cents to $18.350 an ounce. Platinum settled at $1,577.00 an ounce, dropping $13.00. Palladium lost $7.00 to $497.00 an ounce.
Oil and gasoline prices
Crude oil prices fell, "pressured by a jump in U.S. jobless claims and disappointing retail sales data that also weighed on equities markets," reported Robert Gibbons of Reuters.
Higher stockpiles were also cited for losses.
"The big builds in Cushing are a signal that demand is very weak versus supply," Hamza Khan, an analyst at the Schork Group in Villanova, Pennsylvania, was quoted on Bloomberg. "This will keep a lid on prices because once Cushing fills up, barrels will be thrown on the open market. There will be a fire sale in crude oil."
New York crude oil for September delivery lost 56 cents, or 0.5 percent, to close at $82.01 a barrel.
The national average for regular unleaded gasoline tumbled 1.8 cents to $2.747 a gallon, according to AAA fuel data. The price is three-tenths of a cent higher than a week ago, 2.3 cents more than a month back, and 16.2 cents above the price from a year ago.
U.S. Stocks
U.S. stocks ended lower, "as an unexpected rise in initial jobless claims and unimpressive July retail sales dimmed optimism ahead of the monthly payrolls report," wrote Chuck Mikolajczak of Reuters.
"We've got a market that seems to be waiting on pins and needles ahead of the all-important payrolls report," Art Hogan, chief market analyst at Jefferies & Co., was noted on CNNMoney.com.
The Dow Jones industrial average fell 45 points, or 0.05 percent, to 10,674.98. The S&P Index lost 1.43 points, or 0.13 percent, to 1,125.81. The Nasdaq Composite Index declined 10.51 points, or 0.46 percent, to 2,293.06.