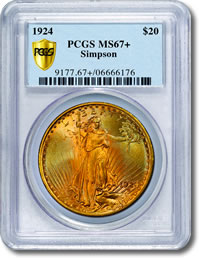 (Baltimore, Maryland) — Professional Coin Grading Service again will offer on-site authentication and grading services — and for the first time in Baltimore the new PCGS SecurePlus™ service — at the Whitman Coin & Collectibles Baltimore Expo. The show is open to the public, June 17 – 20, 2010, in the Baltimore Convention Center, 1 West Pratt St.
"PCGS will accept Show Service submissions until 5 p.m., Friday, June 18, and all other submission levels, excluding bulk, through mid-afternoon on Saturday, June 19," said Don Willis, President of PCGS, a division of Collectors Universe, Inc. (NASDAQ: CLCT).
The following show specials will be available in Baltimore to PCGS Authorized Dealers and members of the PCGS Collectors Club:
Walkthrough: one-day turnaround for $100 ($125 for Secure Plus) on any coin with a maximum value of $100,000
Show Economy: $65 per coin for U.S. and world coins valued up to $3,000 each with a minimum submission of five coins
Show Gold: $45 per coin($55 for Secure Plus) for any U.S. gold coin valued up to $3,000 each with a minimum submission of ten coins.
Customer Service representatives will be at the PCGS booth, #1308, to answer questions and accept submissions. Visitors will also have the opportunity to see demonstrations of the convenient PCGS Photograde™ Online applications for the Apple iPhone™ and Apple iPad™.
For additional information about the Baltimore Expo, visit online at www.WhitmanExpo.com. For additional information about PCGS, call (800) 447-8848 or visit online at www.PCGS.com.