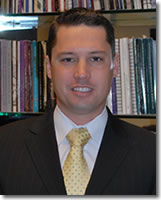 (Irvine, California) — Michael Contursi, previously Director of Operations, has been named Vice President of Rare Coin Wholesalers (www.RCW1.com).
He will be active in managing employee operations as well as collector, dealer and investor relations for the company at coin shows and financial conferences around the country as well as at the company's offices located at 8015 Irvine Center Drive, Suite 440, in Irvine, California.
Contursi joined RCW in 2006 following four years in the United States Air Force as an Avionics Specialist with B-2 Stealth Bombers.
He has a Masters of Business Administration from Webster University and earlier graduated Magna Cum Laude from Park University with a Bachelor of Science in Management.
"I'm very optimistic about the rare coin market and the team here at Rare Coin Wholesalers. Over the past 35 years, my father, Steven L. Contursi, who founded Rare Coin Wholesalers, has bought and sold over a billion dollars of rare coins. I'm proud to be helping him and our team to reach for the $2 billion mark," said Michael Contursi.
For additional information, contact Rare Coin Wholesalers at (800) 347-3250 or visit online at www.RCW1.com.