Bowers and Merena, the world's preeminent auctioneer for rare coins and currency, will conduct the Official auction of the June 2010 Whitman Coin & Collectibles Baltimore Expo.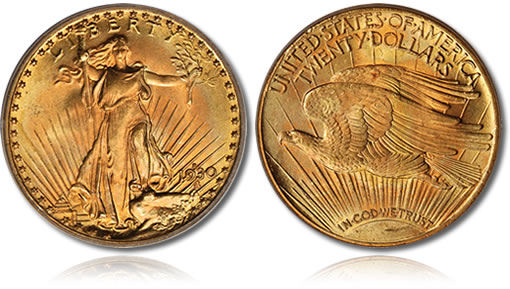 This 1930-S Double Eagle is one of nearly 3,500 U.S. coin rarities up for auction at the June 2010 Baltimore Expo (Click to Enlarge)
Scheduled for June 16-20, 2010 at the Baltimore Convention Center, the sale will present nearly 3,500 lots of United States coins, exonumia and related items.
According to Bowers and Merena president Steve Deeds: "We have a wonderful sale planned for the June 2010 Baltimore Expo anchored by several important collections and Registry Sets.

In the category of Registry Sets we are featuring the Close to Perfect Collection, #1 All-Time Finest Lincoln Memorial Cents Basic Set on the PCGS Registry and the Weston Collection, PCGS Registry Set #8 in the category Capped Bust Half Dollars Major Variety Set without Reeded Edges.

The Close to Perfect Collection includes many low-pop condition rarities, including some stellar-quality MS-69s and MS-70s from the 21st century, while the Weston Collection features many original collector coins in VF, EF and AU."
"Among U.S. gold coin offerings," continued Deeds, "bidders will find the Windermere Collection and its fantastic array of rare-date Liberty Double Eagles and Territorial gold.
Leading the way are 1855-O $20 NGC AU-55, 1859-O $20 NGC AU-55, 1860-O $20 NGC AU-58, 1861-O $20 NGC AU-55, 1861-S Paquet $20 NGC AU-50 and an 1852 Augustus Humbert $50 Gold, Reeded Edge, 880 THOUS, PCGS AU-55.
The Fab Five Collection of Early Half Eagles will also entice gold enthusiasts with a selection of five early Half Eagles, a fresh consignment recently certified by our company for the first time and making its first appearance in a major numismatic auction. A historic 1795 Small Eagle Five in NGC MS-61 leads off the Fab Five Collection, and it is an example of the scarcer BD-8 die marriage."
Concluded Deeds: "Numerous other important rarities can also be found scattered throughout our June 2010 Baltimore Auction. We have a beautiful and rare 1930-S Double Eagle in PCGS Secure MS-65+, a top-of-the-pop 1917 Doubled Die Obverse Lincoln Cent, FS-101, PCGS Secure MS-67 RD from The Holdings of Ron Groszmann, a well-known 1794 Flowing Hair Silver Dollar rarity in a PCGS Genuine holder and countless other highlights from Colonial coinage through Territorials.
Plus, a complete set of Proof Barber dimes, as well as nearly complete sets of Indian cents, Mercury dimes, Standing Liberty quarters, and a type set with key coinage, all collected in the 1950s and 1960s. No matter what your area of specialization, I am confident that the Bowers and Merena June 2010 Baltimore Auction holds many important bidding opportunities. Enjoy the sale, and good luck with your bids."
Additional highlights in the Bowers and Merena June 2010 Baltimore Auction include:
1926-S Buffalo Nickel, NGC MS-65
1937-D Buffalo Nickel, 3-Legged, PCGS MS-65, CAC
1797 Draped Bust Half Dime, 16 Stars, NGC MS-64, CAC
1800 Draped Bust Half Dime, PCGS MS-64
1807 Draped Bust Dime, NGC MS-65, OH
1795 Flowing Hair Silver Dollar, Three Leaves, PCGS MS-62
1795 Capped Bust Right Eagle, 13 Leaves, NGC AU-55
1872 Liberty Eagle, PCGS Proof-64 DCAM, Ex: J.F. Bell Collection
MCMVII (1907) High Relief Saint-Gaudens Double Eagle, Wire Rim, NGC MS-66
A Complete 1871 Standard Silver Pattern Proof Set, Half Dime through Dollar, Ex: Garrett
1872 Pattern Commercial Dollar, Judd-1217, PCGS Proof-64 RB
1849 Mormon $2.50 Gold, K-1, PCGS VF-35, CAC–Gold Label, OGH–First Generation
1849 Oregon Exchange Company $5 Gold, K-1, NGC AU Details–Tooled
1883 Hawaii Eighth Dollar, PCGS Secure Proof-63 Cameo
All lot descriptions and images in the June 2010 Baltimore Auction can be viewed online at the Bowers and Merena website, www.bowersandmerena.com. Printed catalogs are available upon request by calling 800.458.4646.
Bidding will open during the fourth week of May and pre-auction bids are welcome at www.bowersandmerena.com; by e-mail at auction@bowersandmerena.com; by phone at 800.458.4646; by fax at 949.253.4091; and by postal mail addressed to Bowers and Merena, Baltimore June 2010, 18061 Fitch, Irvine, CA, 92614.
Interested bidders are also encouraged to view lots onsite in Baltimore June 15-19, 2010, and bid in-person at the live auction, or live online through the Bowers and Merena website. A complete auction and lot viewing schedule is available at www.bowersandmerena.com or by calling 800.458.4646.
About Bowers and Merena Auctions
Bowers and Merena Auctions was founded in 1983 and has grown to become the world's preeminent numismatic auctioneer with more than half a billion dollars in rare coin and currency sales. They were awarded the prestigious honor of Official Auctioneer for the 2009 American Numismatic Association Conventions in Portland and Los Angeles, in addition to their continued service as Official Auctioneer of the Whitman Coin & Collectibles Baltimore Expos three times every year.
Bowers and Merena has handled four of the five most valuable United States coin collections ever sold, including the Louis E. Eliasberg Sr. Collection, the Harry W. Bass Jr. Collection, the Garrett Collection for The Johns Hopkins University and the Norweb Collection.
In 2008, Bowers and Merena Auctions acquired Ponterio & Associates, Inc., which now serves as Bowers and Merena's auction division for world and ancient coins and currency. Bowers and Merena Rare Coin Galleries offers direct buying and selling of exceptional quality gold and silver rare coins.
For more information about Bowers and Merena's June 2010 Baltimore Auction, call 800.458.4646. For media inquiries, ask for President Steve Deeds. Complete prices realized for all past auctions are available at www.bowersandmerena.com.