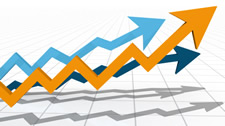 The United States Mint will increase the price of First Spouse Gold Coins to better align them with the sustained and recent jump in gold prices.
The US Mint typically adjusts coin prices, if needed, before noon ET on Wednesday.
Last week prices remained unchanged, but only because the London Fix weekly gold average fell $2 short of topping the $1150 an ounce threshold that would have automatically raised First Spouse coins by $25.
And while gold was pressured lower Tuesday morning by profit-taking and a stronger U.S. dollar, six of the seven London "fixings" the U.S. Mint will use this week in its formula to determine whether or not to adjust prices already has gold averaging to $1,176.75 an ounce.
The London AM Fix on Wednesday would have to free-fall to under $989.50 an ounce for coin prices to remain where they are. That would be extremely unlikely.
The following are the available figures the Mint will use to arrive at a weekly average:
London Fix Gold*

AM
PM
5/5/2010 – Wednesday
?
N/A
5/4/2010 – Tuesday
1184.25
1185.00
4/30/2010 – Friday
1175.25
1179.25
4/29/2010 – Thursday
1170.00
1166.75
*Monday was the "Early May Bank Holiday" in the United Kingdom.
With the time difference, the final London AM gold price will get fixed before most Americans get out of bed Wednesday morning.
Expect the Mint to increase prices of the 1/2 ounce, 24 karat gold coins by:
Uncirculated First Spouse Gold Coins — $716 to $741
Proof First Spouse Gold Coins — $729 to $754
The $10 gold coins that would be affected include the most recent release of the 2010 First Spouse Abigail Fillmore and the 2009 gold coins honoring:
Margaret Taylor
Sarah Polk
Julia Tyler
Letitia Tyler
There have been four US Mint collector coin price adjustments in 2010:
Jan 27 decrease
Feb. 24 increase
April 14 increase
April 21 decrease
Similar price corrections will not be made to the Mint's bullion (non collector) coins, like the American Gold Eagle and the America Buffalo Gold. Bullion pieces do not have a fixed weekly price like collector gold products, but instead are sold for a small amount over the current spot price of gold.