Earlier this month, the Royal Canadian Mint marked spring's arrival with a strong accent on nature in the launch of exciting new coins designed to appeal to the discerning collector and the budding coin enthusiast alike.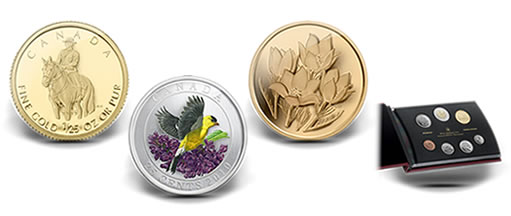 A number of popular series continue in this latest release of 2010, notably: the 1/25 oz. pure gold coin honoring the RCMP; the Birds of Canada 25-cent coin series celebrating the colorful Goldfinch; and the 99.999% pure gold Canadian Floral Emblems series featuring Manitoba's Prairie Crocus.
Here is a closer look at some unique attributes of each coin:
1/25-Ounce Gold Royal Canadian Mounted Police Coin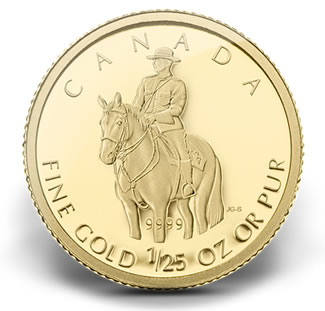 With its delicate size, this exquisitely-crafted coin is an object of pure intrigue — its collectability heightened by its pure 99.99% fine gold composition and reduced 14,000 worldwide mintage.
This coin is a stunning example of the remarkable detail a skilled hand can capture within a small surface. Learn more ››
Colored Goldfinch Coin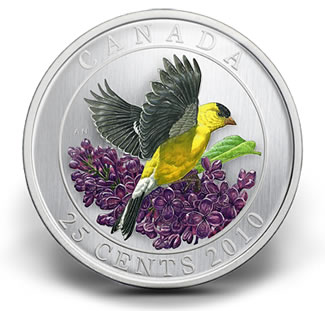 Gorgeous color and amazing attention to detail create this stunning design while the unusual specimen finish adds another collectible feature.
This 25-cent coin is limited to a mintage of only 14,000 worldwide
99999 Gold Prairie Crocus Coin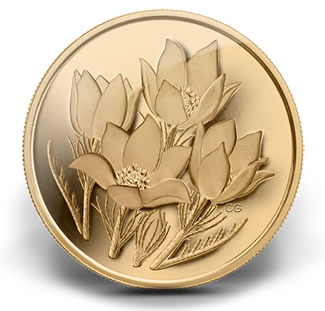 This coin is celebrated as the purest gold coin available in the world — a masterpiece of unparalleled 99.999% gold that is crafted to proof perfection.
Whether this coin is collected on its own or as the 13th issue in this ongoing collection, its low mintage distinguishes it as a limited work of art of the highest order. Learn more ››
NEW Special Edition Specimen Set

2010 Special Edition Specimen Set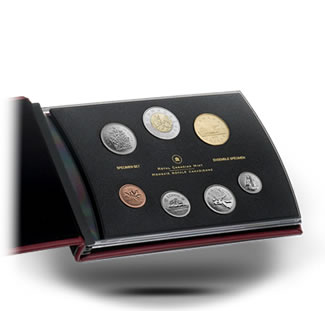 Limited to 15,000 sets worldwide
Features a one-of-a-kind $2 coin
As part of a new Wildlife Specimen Set series, this is the only set to offer the limited edition $2 "Young Lynx" circulation coin.
With its specimen finish — brilliant and frosted relief on a lined background — this is a set coin collectors can cherish. Learn more ››
HOW TO ORDER: Purchase directly from mint.ca or call the Mint toll-free: 1-800-268-6468 (US) or 1-800-267-1871 (Canada).
PRICING: Mint.ca prices are in CDN dollars, but approximate US pricing is one click away with our handy US price converter tool.
SHIPPING: The Royal Canadian Mint is pleased to ship to the US and many other international destinations.
About the Royal Canadian Mint
The Royal Canadian Mint is the Crown Corporation responsible for the minting and distribution of Canada's circulation coins.
An ISO 9001-2008 certified company, the Mint is recognized as one of the largest and most versatile mints in the world, offering a wide range of specialized, high quality coinage products and related services on an international scale.
For more information on the Mint, its products and services, visit www.mint.ca.