The free and convenient PCGS Photograde™ Online coin grading guide (http://www.pcgs.com/photograde) introduced in January has been expanded, and now an Apple iPad application is available in addition to an updated Apple iPhone application.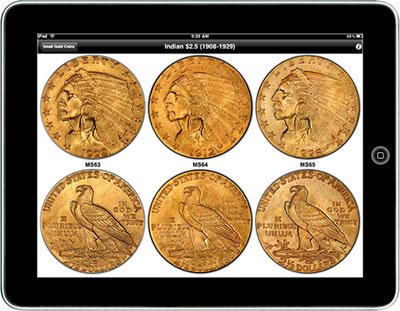 PCGS Photograde Online now has expanded to include more than 1,400 crystal clear photos, and a free iPad application now is available. (Photo credit: PCGS – CLICK TO ENLARGE)
More than 1,400 detailed, close-up photo images for 69 types of 18th to 21st century U.S. coin issues in up to 30 different grades are now online.
The iPad app was released simultaneously with the April 3 nationwide marketplace introduction of the iPad.
Collectors, dealers and the general public can use Photograde to easily determine the approximate grades of their U.S. coins by matching them with the high-resolution images from the extensive PCGS Grading Reference Set and other selected coins archived with the PCGS TrueView™ photo service.
"PCGS Photograde Online version 1.2 has 1,450 crystal clear photos, and now includes half cents, large cents, and Capped Bust and Seated Liberty half dimes. We've added nine more coin series and expanded to include more images for lower grades," said Don Willis, President of Professional Coin Grading Service (www.PCGS.com), a division of Collectors Universe, Inc. (NASDAQ: CLCT).
"Photograde is not a substitute for certification and authenticity of grade by PCGS experts, but this enthusiastically accepted online grading guide certainly is a useful, easy-to-use tool for anyone to quickly match up coins to estimate their grades."
An updated, free version for the iPhone and Apple iPod touch™ now is available online at the Apple iTunes™ App Store along with a version for use on the just-introduced iPad.
"In anticipation of the huge demand for the iPad, we made an app available for the grand opening of the Apple iPad App Store on Saturday, April 3, the first day iPads went on sale nationwide," said John Nelson, Director of the PCGS Web Applications Group.
Since its founding in 1986, Professional Coin Grading Service experts have authenticated and graded more than 19 million coins with a combined total value of nearly $20 billion. For additional information, contact PCGS by phone at (800) 477-8848 or by email at info@PCGS.com
Apple iPhone, iPad and iPod touch are trademarks of Apple, Inc.