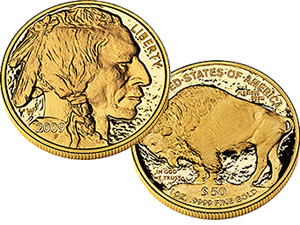 The United States Mint announced today that it has sold out of the 2009 American Buffalo One Ounce Gold Proof Coins, a statement which does not come as much of a surprise to collectors.
The most recent sales figures released by the Mint showed the Buffalos standing at 49,388 sold – a number that would allow them to attain the round figure of 50,000 quite easily with just another 612 to be ordered. And since the Mint removed them from inventory today, we can safely assume that mark has been reached.
The 2009 Buffalos have proved quite popular since their late debut on October 29 of last year. In fact, in their first four days, 19,468 of the strikes flew off the shelf. This immediately placed them on a level almost equal with the entire Buffalo Proof mintage for the previous year.
Sales since then have been surprisingly steady, allowing for some fluctuations relating to the price of the 24-karat, .9999 fine gold contained within them. When the coins were pulled from availability, they were selling for $1,410, up only $50 from their release price of $1,360. Of course, these amounts were based on the Mint's pricing matrix for precious metal coins which is tied to the weekly London Fix of the precious metal.
Those interested in obtaining the 2010 version of the proof Buffalos will have to wait. As of now, the Mint has not yet released their availability date.