Early copper, large and small cents, Indian quarter eagles all highlight wide array of deep collections, March 25-28
DALLAS, TX – World class collections are the name of the game at Heritage Auction Galleries March 25-28 Signature® ANA U.S. Coin Auction, part of the week-long happenings at the ANA National Money Show in Fort Worth, just down the highway a spell from Heritage headquarters in Dallas.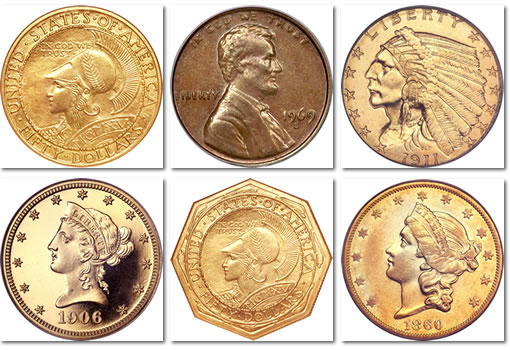 Highlights include commemorative gold, cents large and small, and quarter eagles.
"As always, it's an honor to present the official auction," said Greg Rohan, President of Heritage Auction Galleries. "Our track record of successful events speaks for itself and is a sign of trust from both the ANA and our consignors. This auction will add to that legacy."
The most impressive grouping of the auction is the commemorative gold, which features no less than seven 1915-S Panama-Pacific fifty dollar gold coins, three round and four octagonal.
"In most of our auctions, one of these California commemorative coins would be a star highlight," said Rohan. "With seven of them in this auction it's more like an ensemble cast."
Two featured collections account for six of the seven coins. The Cliff Street Collection has two sets of the coins, with a pair of round $50s in lots 1842 and 1848 and their octagonal counterparts as lots 1843 and 1849.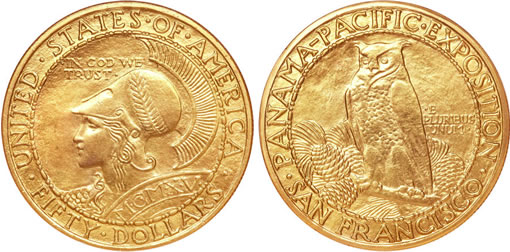 1915-S $50 Panama-Pacific 50 Dollar Round – Click image to visit Heritage for additional information
The Larry V. Cunningham Collection features a round example graded MS65 NGC, CAC as lot 1854, and lot 1855 is its octagonal twin, graded MS63 NGC, CAC. Last but not least is lot 1856, a final octagonal example graded MS63 by PCGS.
Copper collectors will be keeping an assuredly keen eye on both large and small cents in this auction, and early copper specialists will doubtless be drawn to a 1793 Chain cent of variety S-3, graded MS64 Brown by PCGS.
"The history of this Chain cent is incredible," said Rohan. "It was used to illustrate its variety on the Levick plate of April 1869, a pioneering photographic record of large cent varieties. We have been able to trace its provenance even before that, back to an Edward Cogan auction in December 1866."
For small cent collectors, one of the most spectacular Lincoln cent varieties, the rare 1969-S Doubled Die Obverse , is represented in lot 301, with an example graded AU55 by PCGS.
Just a few dozen survivors are known for this landmark variety, which has die doubling so broad that it can be seen without magnification.
Indian quarter eagle collectors will be paying close attention to Part Two of The Atherton Family Collection, which has a complete set of the 15 issues in the series.
"Every coin in this collection is a highlight in its own right, but two lots stand out," said Rohan. "The 1911-D is the key to the series, and the Atherton coin, lot 2176, is graded an amazing MS66 by PCGS. Former owners include Ambassador and Mrs. R. Henry Norweb, and later one of the most famous gold coin collectors of all time, Harry W. Bass, Jr."
Not to be overlooked, also, is lot 2184, a 1914 quarter eagle awarded the almost unheard-of grade of MS67 by PCGS. Not only is it the single finest 1914 quarter eagle known, it is one of just four Indian quarter eagles of any date graded MS67 by PCGS.
"The series just doesn't come any finer," said Rohan.
Additional highlights include, but are not limited to:
About Heritage Auctions
Heritage Auctions, headed by Steve Ivy, Jim Halperin and Greg Rohan, is the world's third largest auction house, with annual sales more than $600 million, and 475,000+ registered online bidder members. For more information about Heritage Auctions, and to join and gain access to a complete record of prices realized, along with full-color, enlargeable photos of each lot, please visit HA.com.
Want to get the up-to-the-minute updates and breaking news stories about Heritage Auctions? Get them as they happen at: Twitter.com/HeritagePress; Twitter.com/JimHalperin; Facebook: Heritage Auction Galleries.