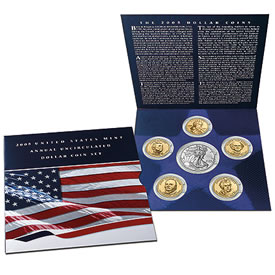 The 2008 Annual Uncirculated Dollar Coin Set was moved to the United States Mint "sold out" column on Thursday after being unusually available for nearly 1 1/2 years. They went on sale August 7, 2008.
The set was the only way to purchase an uncirculated "W" American Silver Eagle directly from the US Mint, albeit 2008-dated, since 2009 proof and uncirculated eagles were canceled in 2009 as a result of unprecedented demand for the bullion versions.
The annual set includes the collectible eagle from West Point as well as four Philadelphia struck 2008 Presidential $1 Coins — honoring James Monroe, John Quincy Adams, Andrew Jackson, and Martin Van Buren, and a Sacagawea Golden Dollar from the United States Mint at Denver.
The sets were priced at $37.95, which was attractive considering the cost to purchase an uncirculated American Eagle on the secondary market (see uncirculated W Silver Eagles on eBay
) on top of the included five $1 coins.
98,896 of the annual sets were purchased as of Monday, Jan. 25. The Mint is already selling bullion 2010 Silver Eagles, but there has been no announcement for the 2010-dated proof and uncirculated versions. The bullion eagles have already recorded their best January ever. If the pace continues, more collectors will begin to worry that this year's numismatic eagles will again get canceled.