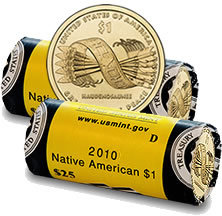 The United States Mint today at noon ET began selling 2010 Native American Dollar Rolls for $35.95.
Available are rolls filled with $1 coins struck from either Philadelphia or Denver. Each roll is "wrapped with specially designed yellow and black paper" and contains 25 coins.
The Native American dollar features a new reverse theme each year. The 2010 design, by Thomas Cleveland, portrays "Government – The Great Tree of Peace." It shows a Hiawatha Belt that signifies the creation of the Haudenosaunee, also known as the Iroquois Confederacy.
The belt and five arrows bound together signify the strength in unity of the five participating nations — Onondaga, Mohawk, Oneida, Cayuga and Seneca. The obverse features Glenna Goodacre's Sacagawea design that was first introduced in 2000.
2009 was the first year to feature a new design on the Native American Dollar. Sales were fairly robust. The US Mint indicates that it sold 59,000 rolls of 2009-Ps and 53,732 rolls of 2009-Ds.
The Mint's latest offering may be ordered directly from their website at:
United States Mint $1 Product page
They may also be purchased through the Mint's toll-free number, 1-800-USA-MINT (872-6468). Hearing and speech-impaired customers may order by calling 1-888-321-MINT (6468).
The new dollars are also available through the US Mint Direct Ship Program. Boxes of ten 25-coin rolls of the Native American coins are sold at face value ($250), with no premiums added or shipping costs. However, these rolls are not wrapped in specially designed paper collectors prefer, since the purpose of the program is to distribute $1 coins into circulation for ever day use. (For more information on the service, read 2010 Native American Dollar Direct Ship Rolls.)
In an official event, the US Mint Director Ed Moy will ceremoniously launch the dollars in New York City on Monday, Jan. 25, 2010, at 10:30 a.m. Eastern Time (ET). Moy will join John Haworth, Director of the National Museum of the American Indian George Gustav Heye Center. The event is open to the news media and the public, and will occur at the museum.
For more information this year's design, to include specifications, see: 2010 Native American $1 Coin.