The Longfellow Collection, Part Two of The Alfred V. Melson Collection and an impressive array of California gold anchor late Winter West Coast auction, Feb. 3-7
DALLAS, TX — An extremely rare and very beautiful 1849-C Open Wreath gold dollar, graded XF45 by NGC, is the crown jewel of The Longfellow Collection and leads the list of rarities offered by Heritage Auctions as part its February 2010 Long Beach U.S. Coin Auction, Feb. 3-7, at the Long Beach Convention Center, 100 S. Pine Avenue. It is estimated at $300,000+.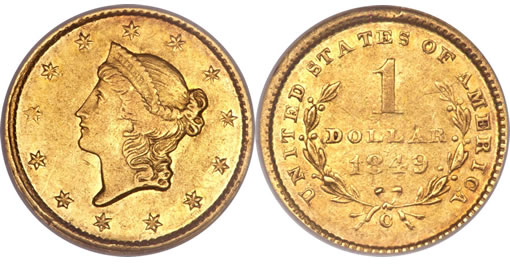 1849-C Open Wreath gold dollar – Click image to visit Heritage Auction page for additional information
"The Longfellow Collection has a stunning array of gold dollars, but the 1849-C Open Wreath is at the top of the list," said Greg Rohan, President of Heritage Auction Galleries. "With only four confirmed examples known, it is one of the great rarities of American gold coinage."
The United States first struck $1 gold coins in 1849, the year famously associated with the California Gold Rush. Early gold dollars that year had an "open" wreath design with short branches, while later coins showed a "closed" wreath with long branches.
"Gold dollars were struck in four different cities in 1849," said Rohan, "but only the Mints in Philadelphia and Charlotte made Open Wreath coins. Experts believe only a few hundred of the Charlotte coins with the 'C' mintmark were ever struck, and of those only four have survived. A fifth example is rumored, but unconfirmed."
Other important dates among the gold dollars of The Longfellow Collection include an 1853-D, MS66 NGC, CAC (struck at the Dahlonega Mint in Georgia), estimated at $50,000+; an 1855, MS66 PCGS, CAC, estimated at $40,000-$50,000; and an 1875, MS66 PCGS, CAC, with a matching $40,000-$50,000 estimate.
The California Gold Rush inspired not only the gold dollars, but also a number of ingots cast by assayers, who refined gold brought to them by miners and made assurances of its fineness. The assay firms, which often operated as partnerships, played an important role in helping California gold make its way into the mainstream of East Coast business.
"The four gold ingots in the Long Beach auction were all recovered from the wreck of the S.S. Central America," said Rohan. "The golden cargo of the Central America, valued in the millions of dollars in 1857 and hundreds of millions today, was headed for New York City when the ship sank in the aftermath of a hurricane."
Though the loss had catastrophic consequences for life and business in 1857, it saved the assayers' ingots carried by the Central America from being melted, the fate of countless others that arrived in New York. When the ship was famously re-discovered in the 1980s it brought to light ingots from a variety of assayers.
The four ingots come from three different assayers. The largest, from the firm Harris, Marchand & Co., weighs in at just more than 55 ounces and carries an estimate of $150,000-$200,000. The smallest is a 23-ounce ingot assayed by Justh & Hunter, and is expected to bring $60,000-$75,000. In the middle are two Kellogg & Humbert ingots, with one weighing in at 38.76 ounces, estimated at $80,000-$100,000, and the other at 48.65 ounces, estimated at $120,000-$140,000.
The California connections continue well beyond gold: The auction features a rare 1943-S bronze cent, VF35 PCGS, struck in the wrong metal and one of only seven positively identified pieces of its kind, was made in San Francisco. It carries a pre-auction estimate of $75,000+.
"This particular 1943-S bronze cent is the undisputed highlight of Part Two of The Alfred V. Melson Collection," said Rohan, "and it comes just one month after our record-setting auction of a Philadelphia 1943 bronze cent at January FUN in Florida. While any genuine 1943-dated bronze cent is rare, examples struck outside the Philadelphia Mint are particularly so. Our research has been able to confirm just seven distinct examples. We're excited to see what this piece will bring."
Additional highlights include, but are not limited to:
1796 Dime, JR-6, MS64 Prooflike NGC: A carefully preserved example of a scarce 18th century dime variety, formerly of The Ed Price Collection. Estimate: $50,000+.
1795 Small Eagle Reverse Half Eagle, BD-1, MS60 NGC: An unworn representative of what some scholars believe is the first gold coin variety struck at the United States Mint. From The South Texas Collection. Estimate: $40,000+.
1882 Double Eagle, XF45 PCGS: The 1882 double eagle is one of the lowest-mintage business strike gold coins. This Choice XF survivor is one of just 571 pieces produced. Estimate: $60,000+.
1929 Double Eagle, MS65 PCGS: A Gem example of a heavily melted later Saint-Gaudens issue, formerly part of the Morse Collection. Estimate: $70,000-$90,000.
1931-D Double Eagle, MS64 PCGS, CAC: From the last year double eagles were struck at Denver, one of just 100 to 150 pieces known. Estimate: $70,000-$90,000.
About Heritage Auctions
Heritage Auctions, headed by Steve Ivy, Jim Halperin and Greg Rohan, is the world's third largest auction house, with annual sales more than $700 million, and 475,000+ registered online bidder members. For more information about Heritage Auctions, and to join and gain access to a complete record of prices realized, along with full-color, enlargeable photos of each lot, please visit www.HA.com.
Want to get the up-to-the-minute updates and breaking news stories about Heritage Auctions? Get them as they happen at: www.Twitter.com/HeritagePress; www.Twitter.com/JimHalperin; Facebook: Heritage Auction Galleries.