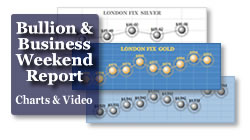 Precious metals pulled back from last week's heightened bullish attitude, although platinum still enjoyed healthy weekly gains in both New York and London. The greenback moved up and down based mostly on the daily swinging economic news from China and the US, with gold then traversing the opposite direction of the dollar.
In black gold, New York crude tumbled nearly 6 percent on the week as warmer weather forecasts and weaker demand curbed its investment appeal.
In other markets, US stocks on Friday had their worst trading day of the year, and finished the week lower. European stocks also ended down. The German DAX led with a weekly loss of 2.7 percent.
Precious metals weekly prices and gains follow:
In London Fix bullion weekly prices, gold gained slightly at 0.1 percent, silver jumped 2.2 percent and platinum advanced 2.0 percent. Gold on Friday was fixed at $1,128.00 an ounce, gaining $1.25 for the week. Silver ended at $18.52 an ounce, for a weekly increase of 40 cents. Platinum was settled at an even $1,600.00 an ounce, rising $31.00 for the week.
For New York metals weekly prices, gold declined 0.7 percent and silver lost 0.2 percent. Platinum, however, rose 1.6 percent. Gold for February delivery ended at $1,130.50 for a weekly loss of $8.40. Silver futures for March delivery ended at $18.43 an ounce, falling 4 cents on the week. Platinum for April delivery closed to $1,596.10, advancing $25.50 on the week.
Notable bullion quotes follow:
"Investor interest in gold seems to be cooling off, as the renewed decline in gold holdings in the world's largest gold [exchange traded fund], SPDR Gold Trust, indicates," metals analysts at Commerzbank said in a note that was cited on MarketWatch.

"Platinum and palladium should continue to respond to inflows of investment to the new ETFs," Tom Pawlicki, an MF Global Ltd. analyst in Chicago, said on Bloomberg.
"Commodities fell in the wake of the gains exhibited by the US dollar, and gold remained confined within the $1125-$1150 trading channel ahead of pre-weekend book-squaring and the release of US CPI data," wrote Jon Nadler, senior analyst at Kitco Metals, Inc.

"While support has been manifest in a value zone that extends from $1115 to $1130, the yellow metals still requires a convincing break above $1150 and up towards $1170 to avoid disappointment and potential liquidations among latecomers to the party that broke out late on Sunday."
Gold, considered a hedge during times of high inflation and economic uncertainty, tends to follow oil and move opposite to the U.S. dollar. A rising greenback makes dollar-denominated commodities, like bullion, more expensive for holders of other world currencies.
To follow are silver, gold and platinum performance charts, oil news, week-ending stock summaries, and precious metal article summaries.
London Fix Charts: Silver, Gold and Platinum
(Jan 8 – 15)
The London Fix is one of the most used bullion quotes around the world. The London AM fix for gold and platinum begins at 10:30am GMT (5:30am in New York), and the PM fix begins at 3pm GMT (10am in New York). The London Fix for silver begins each business day at 12pm GMT (7am in New York).
London Fix Precious Metals Prices
(Jan 8 – Jan 15)
| | | | | | |
| --- | --- | --- | --- | --- | --- |
| | Up | Down | Week % Change | Week $ Change | Friday Close |
| Silver | X | | 2.2% | $0.40 | $18.52 |
| Gold | X | | 0.1% | $1.25 | $1,128.00 |
| Platinum | X | | 2.0% | $31.00 | $1,600.00 |
( Dec 31 – Jan 8 )
| | | | | | |
| --- | --- | --- | --- | --- | --- |
| | Up | Down | Week % Change | Week $ Change | Friday Close |
| Silver | X | | 6.7% | $1.13 | $18.12 |
| Gold | X | | 2.1% | $22.75 | $1,126.75 |
| Platinum | X | | 7.0% | $103.00 | $1,569.00 |
(Dec 24 – 31)
| | | | | | |
| --- | --- | --- | --- | --- | --- |
| | Up | Down | Week % Change | Week $ Change | Friday Close |
| Silver | | X | -1.9% | -$0.33 | $16.99 |
| Gold | | X | -0.05% | -$0.50 | $1,104.00 |
| Platinum | X | | 0.7% | $10.00 | $1,466.00 |
(Dec 18 – 24)
Up

Down

Week % Change

Week $ Change

Friday Close

Silver

X

0.1%

$0.01

$17.32

Gold

Unchanged

0.0%

$0.00

$1,104.50

Platinum

X

2.8%

$39.00

$1,456.00
(Dec 11 – 18)
| | | | | | |
| --- | --- | --- | --- | --- | --- |
| | Up | Down | Week % Change | Week $ Change | Friday Close |
| Silver | | X | -1.1% | -$0.20 | $17.31 |
| Gold | | X | -1.7% | -$19.50 | $1,104.50 |
| Platinum | | X | -0.8% | -$12.00 | $1,417.00 |
*Week change numbers are for Friday PM-Friday PM ( Unless a time is closed for holidays)
Weekly World Business News: Oil, Gasoline, and Stocks Prices
Oil prices plunged Friday, and for the week. The appeal for crude has dimmed, according to reports, on prospects of warmer weather.
"In general, it's been the fact that fears of extreme cold weather that's been around for while has started to abate," Amrita Sen, oil analyst at Barclays Capital, said on MarketWatch. "Much of the upside in previous weeks had been a winter premium."
On Friday, New York crude-oil for February delivery tumbled $1.39, or 01.8 percent, to $78.00 a barrel. Oil lost $4.75, or 5.7 percent, on the week.
Prices at the pump fell four-tenths of a cent between Friday and Saturday. The national average for regular unleaded gasoline is $2.753 a gallon, according to a AAA fuel report. The price is 1.6 cents higher than last week and 16.3 cents more than a month back. Compared to a year ago, average gasoline prices have jumped 93.7 cents.
U.S. stocks fell Friday "one day after closing at multi-month highs, as investors welcomed better-than-expected profit reports from JPMorgan Chase and Intel, but opted to sell shares regardless. A mild reading on inflation, a mostly in-line reading on manufacturing and a better-than-expected report on consumer sentiment were also in the mix," wrote Alexandra Twin of CNNMoney.com.
"To have two marquee-name companies like J.P. Morgan and Intel put out their earnings and have the market react like this is a very bad sign," suggesting that a broader correction may be in store, said strategist Bill King, of M. Ramsey King Securities on MarketWatch. "The flow of institutional money into the market has really dried up; no one wants to be buying at these levels."
For the week, the Dow fell 0.1 percent, the S&P declined 0.8 percent and the Nasdaq ended down 1.3 percent.
Friday figures for the three major US indexes follow:
The Dow caved 100.90 points to close at 10,609.65.

The S&P decreased 12.43 points, closing at 1,136.03.

The NASDAQ fell 28.75 points to finish at 2,287.99.
And in other world markets:
The German DAX tumbled 112.91 points to close at 5,875.97.

The Paris CAC 40 dropped 61.39 points, to close at 3,954.38.

And the London FTSE 100 lost 42.83 points to finish at 5,455.37.
JPMorgan gets the ball rolling on record bonuses after posting deep losses in the fourth quarter in consumer and mortgage loans. Jill Bennett, reports. The following weekly business recap video from Reuters discuses this and US stocks:
Bullion and Business Articles
In related silver and gold news, interesting or quick-read articles from the week include:
Gold drops on inflation data, China concerns, rising dollar – MarketWatch
Gold futures sank Friday, hit by concerns about China's moves to cool its economy, a tame U.S. inflation report and a stronger dollar. There were concerns that China's appetite for commodities might wane. On Friday, China reported record foreign-exchange reserves, torrid …
Gold Falls as Rallying Dollar Cuts Investor Demand for Metals – Bloomberg
Gold prices fell as the dollar's rally sapped investor demand for the metal as an alternative asset. Palladium jumped to an 18-month high. The greenback gained as much as 0.8 percent against a basket of six major currencies, halting a five-session slide. Demand for the dollar as a haven …
I'll Have A Slice Of That Pie, Please! – Jon Nadler, Kitco
Gold prices wiped out their weekly gains following an overnight fall in values, to just under $1130 per ounce. The move to lower levels was precipitated by a 0.43 surge in the US dollar and by a lack of bargain-hunting buyers in overseas markets. This was the first real gain in the U.S. Dollar Index in circa six sessions. The greenback gained ground on market speculation that growth in China will hit …
Gold and Silver Coin Plateau – CoinNews
US Mint numismatic coin sales dipped, marking the third general weekly decline in four weeks. The excitement level of the 2009-dated coins is waning as eyes begin to turn toward upcoming series, like the America the Beautiful Quarters products, 2010 Lincoln cent and 2010 silver dollars — especially the Boy Scout commemoratives. Sales were not completely sour. Last week's rising gold and silver prices were beneficial to most …
Leading Uncirculated Set and Bullion Eagles – Silver Coins Today
Demand for two of the three numismatic sets currently offered by the United States Mint retreated while bullion Silver Eagles surged, according to the latest US Mint weekly sales data. It is the end of the 2009-dated eagles. The Mint sold out of their remaining inventory on Tuesday morning. Mint authorized purchasers had ordered 236,500 more since last Wednesday's report, bringing the total sold since the beginning of 2009 to …

Annual U.S. Inflation Rises 2.7% – USInflation
Consumer prices shifted slightly higher in December but the annual inflation rate jumped due to rising energy costs, the Labor Department reported Friday. US consumer prices increased modestly at 0.1% last month, which was down from a 0.4% increase in November and marked the lowest reading since July. Most forecasters were expecting a 0.2% increase. "Consumer pricing pressures remain very subdued," Russell Price, a senior economist …
For bullion price charts, see bullion spots.