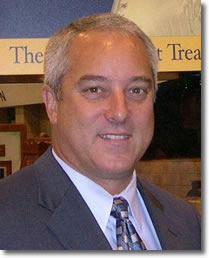 (Katy, Texas) – Paul Montgomery, the numismatic expert hired by the court-appointed receiver for the Stanford Financial Group companies, cautions that claimants should remain patient after a federal judge in Dallas, Texas approved dispersals of more than $20 million in rare coins, bullion coins and cash to former customers of Stanford Coins and Bullion, Inc. on January 5, 2010.
"The process is arduous. Stanford's clients and vendors are very concerned about their open business with the company, and while I understand and sympathize with their concerns, I ask all interested parties to remain patient as the process takes significantly longer than most would expect," said Montgomery, President of Paul Montgomery & Associates LLC of Katy, Texas and President of the Professional Numismatists Guild.
Judge David C. Godbey, of the United States District Court Northern District of Texas Dallas Division, approved most of the motions presented by the court-appointed Receiver to dispose of six categories of assets, including $20.2 million of coins and bullion being stored for 147 Stanford customers; approximately $1 million worth of coins and bullion that had been marked for delivery to approximately 70 customers who had paid in full prior to the Stanford being taken over by the Receiver; and to liquidate approximately $500,000 of coins and bullion held by Stanford for customers who had not yet paid in full for their purchases.
Last March Montgomery was hired as a consultant by attorney Ralph S. Janvey of Krage & Janvey, LLP in Dallas, the court-appointed receiver in the Stanford bankruptcy case. His specific role is to conclude operations of Stanford Coins and Bullion, Inc., and he has been carefully examining the numismatic items the company was holding for vendors and clients.
"The inventory alone was valued in the tens of millions and owned by hundreds of individuals and/or entities. Each item had to be carefully reconciled. I made recommendations to the court-appointed receiver regarding the disposition of all numismatic and precious metals holdings as well as the sale of other Stanford Coin and Bullion assets," he said.

"Stanford Coins and Bullion of Houston was wholly owned by R. Allen Stanford, and the company generated in excess of $60 million in revenue in its last year of operation, according to court documents in the case," said Montgomery.
Stanford customers whose payments for orders were received after the appointment of the Receiver will receive refunds that will total "hundreds of thousands of dollars," according to Montgomery.
Judge Godbey also approved a motion granting the Receiver permission to liquidate approximately $1.8 million in coins and bullion remaining in Stanford's inventory for potential sale to its customers.
Judgment has been deferred for now on liquidating approximately $3 million of coins and bullion now held by the Receiver that were purchased by other entities owned by R. Allen Stanford or other defendants in the case.
A web site has been created to help interested parties, www.StanfordFinancialReceivership.com, or contact Paul Montgomery by phone at (832) 437-4383, by email at Paul@PaulMongtomeryonline.com or visit online at www.PaulMontgomeryonline.com.