The Canadiana Collection dominates auction action at The Waldorf Astoria, Jan. 3-4, 2010
NEW YORK — Heritage Auctions' World Coins division kicked off 2010 with a bang over the New Year's weekend at the Waldorf Astoria in Manhattan, setting an in-house record total with its $11 million+ Signature® World Coin Auction, Jan. 3-4, with the most famous Canadian coin in existence, the best of three known George V 1936 Dot Cents, leading all coins with a final price realized of $402,500. All prices include a 15% Buyer's Premium.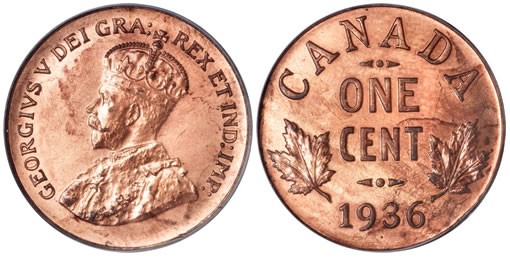 The finest known George V Cent 1936 Dot, KM28, Specimen 66 Red PCGS, Ex: Belzberg – Click image to visit Heritage Auction page for additional information
"We don't see any weakness in the World Coin market right now," said Cristiano Bierrenbach, Director of International Sales at Heritage Auctions. "It almost seems strange to say it, but it's true. Usually one area or another will show some kind of slowdown, but there were a record amount of bidders vying for almost every coin in this auction, especially The Canadiana Collection, as the more than 90% sell-through rate indicates."
The Canadiana Collection did indeed top all entries into auction and set coin collectors across Canada, and the world, abuzz with its stunning array of offerings. In the process of realizing $3.85 million total, it made international news with the sale of the legendary 1936 Dot Cent, KM28, Specimen 66 Red PCGS, Ex: Belzberg, the finest of three known, as mentioned above.
Long considered essentially uncollectible since noted numismatist John Jay Pittman had held all three known examples from 1961 until his death, these coins were struck in 1937 prior to the creation of coinage dies for George VI but never released for circulation. Since first re-appearing on the market more than a decade ago, and now well-scattered, the three 1936 Dot Cents create great excitement whenever one appears on the auction block.
While it didn't garner the same level of media attention as the Dot Cent, a simply beautiful 1934 Australian Proof Set, also featuring George V, KM-PS11, comprising KM22-27, certified and graded by PCGS, generated high interest and spirited bidding from collectors of Australian coins, ultimately bringing more than four times its low estimate of $60,000 to settle at $276,000.
"This is just an absolutely spectacular set, possibly the finest known and certainly the highest certified," said Warren Tucker, Director of World Coins at Heritage Auctions. "It's certainly very rare and now it's the centerpiece for a very advanced collection."
Also from The Canadiana Collection, a stunning 1921 Canadian 50 Cents, KM25a, MS66 PCGS, Ex: Bass-Belzberg-Brown, known as the 'King of Canadian Coins,' and also featuring England's King George V, proved very popular with collectors on its way to a final price realized of $218,500, while the much-heralded 1936 Canadian Dot 10 Cents Specimen 68, KM23a, Specimen 68 PCGS, Ex: Pittman, lived up to its billing as the finest known survivor of the issue as collectors bid the coin up to a price of $184,000.
Further highlights of the auction include, but are not limited to:
Victoria Canadian 50 Cents 1890H, KM6, MS64 PCGS, Ex: Alston-Grossman: One of the most coveted issues in Canadian numismatics and the rarest entry in the incredibly difficult Victoria 50 Cents series, with a mintage of only 20,000 coins. One of only two Mint State examples known, both survivors of the renowned Heaton Hoard discovered in 1974-75. Realized: $149,500.
Victoria Canadian 50 Cents 1871-H, KM6, MS67 PCGS, Ex: Brown-Grossman: With only 45,000 pieces coined, the 1871-H Victoria 50 Cents, the first Heaton production, has the lowest mintage among the early-series issues. This phenomenal Superb Gem coin has the dual distinction of being not only the single finest graded of the issue by three grade points, it is also the single finest PCGS-certified example of the entire Victoria 50 Cents type (7/09). Realized: $120,750
South African Republic gold Pond 1874, Friedberg 1a, KM12, MS64 NGC, fine beard variety: The famed Burgers Pond, portrait of President Thomas François Burgers. 695 were struck in Birmingham, England. Few of this small number have survived, and many extant are damaged from jewelry use. An astounding example. Realized: $97,750.
People's Republic of China gold 20 oz. 1500 Yuan 1989: Commemorating the 40th Anniversary of the People's Republic, National emblem above city view/Government official giving speech at ceremony, value below, KM259, Gem Proof in the original sealed government plastic package. The first example Heritage has seen of this seldom offered issue. Realized: $92,000.
Cuban Republic gold 20 Pesos 1916, KM21, Proof 63 PCGS, extremely rare Proof only date with a total mintage of 10 pieces: One of the great rarities of the Latin gold series, and missing in the collections of the ANS and Smithsonian. Realized: $88,002.
About Heritage Auctions
Heritage Auctions, headed by Steve Ivy, Jim Halperin and Greg Rohan, is the world's third largest auction house, with annual sales more than $700 million, and 475,000+ registered online bidder members. For more information about Heritage Auctions, and to join and gain access to a complete record of prices realized, along with full-color, enlargeable photos of each lot, please visit www.HA.com.
Want to get the up-to-the-minute updates and breaking news stories about Heritage Auctions? Get them as they happen at: www.Twitter.com/HeritagePress; www.Twitter.com/JimHalperin; Facebook: Heritage Auction Galleries.