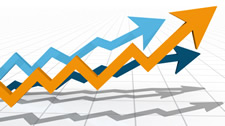 The US Mint has once again raised the prices on its collector gold coins due to the ever-increasing cost of gold.
Utilizing a pricing grid that went into effect the first part of this year, the Mint ties the cost of the Gold UHR Double Eagles, the Gold Buffalo Proofs and the First Spouse coins to the average London Fix gold price for the previous week. With $50 windows in their matrix, the gold price can fluctuate in that realm without the coin price being affected. However, when the average fix goes over or under that threshold, the coin prices are modified accordingly.
That is what happened today. Averaging the previous week's London Fix, gold came in over $1150 an ounce. This pushed the price of the collector coins to $1539 from $1489 for the UHR Double Eagle; $1460 from $1410 for the Proof Buffalos; $754 from $729 for the proof First Spouse coins and $741 from $716 for the uncirculated First Spouse coins.
Following are the daily figures the Mint used to get their average:
London Fix Gold Prices

AM
PM
11/25/2009 – Wednesday
1176.50
–
11/24/2009 – Tuesday
1170.25
1163.25
11/23/2009 – Monday
1166.00
1169.50
11/22/2009 – Friday
1142.50
1140.00
11/21/2009 – Thursday
1136.00
1135.50
Collectors will have one week to decide if they want to purchase the coins at these new prices, or wait and see if gold will go down. Of course, gold could also go up significantly resulting in a price increase for the coins.
The US Mint last raised gold coin prices on Nov. 12, when a penny pushed them higher.