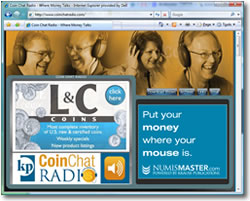 Leading this week's episode of Coin Chat Radio is Bob Van Ryzin's 'What's In the News.' The story of the day is the future US Mint release of two new proof sets relating to this year's bicentennial Abraham Lincoln coins.
The Lincoln One Cent Proof set contains each of the four 2009 cents. The Lincoln Coin and Chronicles Set includes the four new cents as well as a proof Lincoln Silver Dollar. Only 50,000 of these sets will be available, with a release date scheduled for sometime in October.
ANA Executive Director Larry Shepherd is interviewed by Numismatic News Editor Dave Harper. Shepherd spends a few minutes reviewing several lawsuits the ANA has had to deal with recently, and how they are fairing. Also discussed is ANA's objective.
"Our mission now is what we think it always has been, or should have been," Shepherd explains when Harper asks what the purpose of the ANA is. "My personal view is that the ANA's primary mission is to service members and to educate it's members."
Harper also interviews dealer Bob Campbell from the bourse floor of the ANA convention. Campbell was quite optimistic about how the show, and explained his strategy of creating sales.
"You know I always believe that if you don't have the business, take the business to them."
Campbell covers market conditions, including those for specific coins and precious metals. He was quick to offer collector's advice, when asked.
"What I recommend is the same thing I collect," explains Campbell. "You need to go after coins that tell a story, that makes it fascinating. Maybe a series isn't for you anymore, but go after single things.

Try to buy more expensive items, I know its hard to do when you're on a budget or something. But it's a lot better, I think, to have 25 neat items than 2500 small items. So try to go for things that have a story."
Closing out this week's program is Lisa Bellavin and 'Freshly Minted.' Bellavin informs listeners of free medals being given away by the British Royal Mint to commemorate the 50th anniversary of the Mini Cooper. Also mentioned are new coins from the Pobjoy Mint and the Royal Canadian Mint.
To listen to this program, go to Coin Chat Radio. Current and prior week episodes are also available directly from sites hosting the free Coin Chat Radio player, like the one found in the upper right at Coin Collecting News.