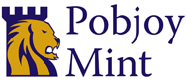 The Government of South Georgia and the South Sandwich Islands has been alerted to the existence of a collection of nine metallic pieces depicting various UK places and which purport to be coins issued by this Administration. 
The obverse of these apparently Bi-Metallic pieces carries an effigy of Her Majesty Queen Elizabeth II, the wording South Georgia and the South Sandwich Islands and the date 2008. 
Reverse images recorded are Chester Penny, Edinburgh, Horse Guards of London, Lincoln Cathedral, The Tower of London, Westminster Abbey, Westminster School, Windsor Castle, and York Castle Museum.
The Government of South Georgia and the South Sandwich Islands wishes to state categorically that these Bi-Metallic pieces should be treated as fakes for the following reasons:
They have been issued without the authority of the Administration.
No legislation exists to allow for coins to be produced under the name of South Georgia and the South Sandwich Islands which are Bi-Metallic or base metal, dual plated.
Such designs have not been presented to Buckingham Palace for approval by Her Majesty The Queen as is required for all coin designs of the Administration which bear Her Majesty's effigy on the obverse.
Copyright for the image of Her Majesty used on these fake pieces rests with Ian Rank-Broadley FRBS FSNAD and this uncouped image has been licensed exclusively for use by Pobjoy Mint Ltd which company confirms that it has not produced these items.
The Administration of South Georgia and the South Sandwich Islands takes this matter very seriously and will, in conjunction with Pobjoy Mint Ltd and the relevant external Authorities, take all actions possible to identify the producers of these fake items and welcomes any information from any party who may be able to assist in tracing said producers. 
# # #
About Pobjoy Mint Ltd.
The Pobjoy family have been associated with fine metalwork since the Middle Ages. The Company was recently granted permission to use the family Coat of Arms in which the Medieval Popinjay is the central motif.
Over the past three centuries, the Company has been involved in many diverse fields, but they have always been involved in metal, both base and precious.
For the past 100 years the Company has been deeply involved in the development and manufacture of coins, medals and tokens.