Gold edged higher Thursday as a weakened U.S. dollar helped the yellow metal rebound from a two-month low reached on Wednesday. Silver and platinum climbed as well. U.S. stocks ended the day with modest gains.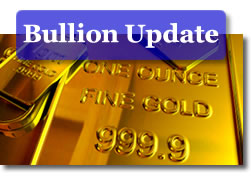 In New York trading futures for bullion:
Silver for September delivery rose 8.3 cents, or 0.6 percent, to 12.935 an ounce.

Gold for August delivery climbed $6.90, or 0.8 percent, to $916.20 an ounce.

October platinum gained $8.70, or 0.8 percent, to $1,110.50 an ounce.
Notable precious metal quotes on the day follow:
"Gold has traded higher on a softer dollar," James Moore, an analyst at TheBullionDesk.com, was quoted on MarketWatch. "While gold is at risk to further pressure short term, we expect the metal to find more substantial support below $900 an ounce."
"We are seeing an impressive recovery in metals, as a weaker dollar and an oversold bounce in oil markets (after six days of declines), is lifting the group," Edward Meir, an MF Global Ltd. analyst in Darien, Connecticut, was quoted on Bloomberg.
In London bullion, the benchmark gold price was fixed earlier in the day to $911.75 an ounce, a $6.25 decline. Silver fell 16 cents to $12.89 an ounce. Platinum was fixed $2.00 lower to $1,108.00.
Gold, considered a hedge during times of high inflation and economic uncertainty, tends to follow oil and move opposite to the U.S. dollar. A rising greenback makes dollar-denominated commodities, like bullion, more expensive for holders of other world currencies.
Oil and gasoline prices
Oil rose slightly on Thursday following sixth straight days of losses. A weakened dollar and Labor Department report showing jobless claims fell last week by 52,000 were cited for helping oil's rise.
New York crude-oil for August delivery gained 27 cents, or 0.4 percent, to close at $60.41 a barrel.
Prices at the pump continued their declining trend, according to AAA. The national average for unleaded gasoline fell 1.3 cents to $2.580 a gallon. The price is 4.9 cents below last week, 4.2 down from a month back, and $1.53 lower than a year ago.
U.S. Stocks
U.S. stocks marked small gains, but "wavered as Alcoa's narrower-than-expected quarterly loss failed to dispel concerns about the start of the quarterly reporting period," writes Alexandra Twin of CNNMoney.
The Dow Jones industrial average rose 4.76 points, or 0.06 percent, to 8,183.17. The S&P 500 Index gained 3.12 points, or 0.35 percent, to 882.68. The Nasdaq Composite Index climbed 5.38 points, or 0.31 percent, to 1,752.55.
Check out additional market resources at Live Bullion Spots, the Silver Calculator, U.S. Mint Collector Bullion Price Guide, and the Inflation Calculator.