Pressured lower on Monday by a stronger U.S. dollar and plunging oil prices, gold dropped near $920 an ounce. Silver and platinum followed with harsh declines while U.S. stocks suffered sinking losses.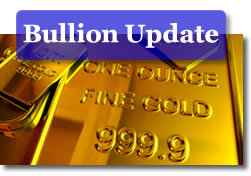 In New York trading futures for bullion:
Silver for July delivery plummeted 49.7 cents, or 3.5 percent, to $13.703 an ounce.

Gold for August deliver slipped $15.20, or 1.6 percent, to $921.00 an ounce.

July platinum fell $42.10, or 3.5 percent, to $1,169.10 an ounce.
"Bullion values eroded swiftly… Precipitated by a sharp decline in crude oil and a notable rise in the US dollar," wrote Jon Nadler, Sr. analyst at Kito.com. "Participants continue to look for support levels near $915 to possibly undergo a test in the near-term. Absent that support plank and related possible bargain hunting, the market might walk off into the sub $900 value zone before this dip is over."
"Silver-price momentum has been driven by strong investor interest," Suki Cooper, a Barclays Capital analyst in London, was quoted on Bloomberg. "If positive sentiment starts to fade, prices could come under significant downward pressure. Consumption in the key U.S. market shows little sign of improving in the near term."
In London bullion, the benchmark gold price was set earlier in the day to $919.25 an ounce, which was $16.00 lower than Friday's fixing. Silver fell 40 cents to $13.83 an ounce. Platinum was fixed $26.00 lower to $1,186.00.
Gold, considered a hedge during times of high inflation and economic uncertainty, tends to follow oil and move opposite to the U.S. dollar. A rising greenback makes dollar-denominated commodities, like bullion, more expensive for holders of other world currencies.
In relaying once again important bullion coin news from last week, the US Mint said demand was down and that it is no longer rationing bullion coins for authorized purchasers. More may be read via the CoinNews article Mint Bullion Allocation Ends or from the Silver Coins Today article Mint Ends Silver Eagle Rationing.
Oil and gasoline prices
Oil plunged Monday "to the lowest level in almost three weeks as the World Bank forecast the global economy will contract more than expected, rekindling worries about oil demand," writes Polya Lesova of MarketWatch.
New York crude-oil for July delivery fell $2.62, or 3.8 percent, to close at $66.93 a barrel — the lowest price since June 3.
AAA said the national average for unleaded gasoline rose three-tenths of a cent to $2.69 a gallon. The price is 2.1 cents higher than a week ago and 28.1 cents more than last month.
U.S. Stocks
U.S. stocks fell to three-week lows on Monday as "as the World Bank's weak outlook on global growth and a selloff in commodity prices sent investors heading for the exits," writes Alexandra Twin of CNNMoney.
The Dow Jones industrial average fell 200.72 points, or 2.35 percent, to 8,339.01. The S&P 500 Index lost 28.19 points, or 3.06 percent, to 893.04. The Nasdaq Composite Index declined 61.28 points, or 3.35 percent, to 1,766.19.
Check out additional market resources at Live Bullion Spots, the Silver Coin Melt Calculator, U.S. Mint Collector Bullion Price Guide, and the Inflation Calculator.