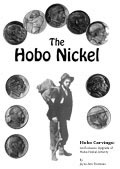 The Latest Edition to the Stella Coin News Library with Free Access!
Virginia Beach, VA – Stella Coin News is very pleased to announce their 9th numismatic online reference book, The Hobo Nickel an Exclusive Upgrade of Hobo Nickel Artistry by Joyce Ann Romines.
Published in 1996 after 17 years of research and study, is now available to all collectors free of charge. SCN was given permission to reproduce the reference material on-line.
This is an updated and republished version of Del Romines original publication "The Hobo Nickel." This addition is fully illustrated and very informative from the extensive studies that were conducted on these fabulous carvings.
About Stella Coin News
StellaCoinNews.com was launched in 2008 as a resource to publish industry news, press releases and research on all manner of numismatic topics. There are currently nine reference books available on SCN. Future plans for SCN is to get other authors to contribute their books as well. As publishers of the Stella Coin News site, we encourage as much participation as possible to make this a community forum.