Gold, platinum and silver retreated Thursday following yesterday's only gain for the metals on the week. Gold wobbled below $900 to close out April with a 3.7 percent loss and a second straight monthly decline. Silver fell and finished 5.1 percent lower on the month. Platinum declined 2.0 percent in April, and marked it first negative month since October. In other markets, crude-oil dipped and U.S. stocks ended mixed.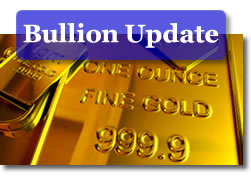 In New York trading futures for bullion on Thursday:
Silver for July delivery plunged 45 cents, or 3.5 percent, to $12.325 an ounce.

Gold for June fell $9.30, or 1.0 percent, to $891.20 an ounce.

July platinum lost 20 cents, or 0.02 percent, to $1,106.60 an ounce.
Gold was "facing more headwinds on better stocks, less haven buyers," George Gero, a precious-metals trader for RBC Capital Markets, was quoted on MarketWatch. However, "if there is a rally over $910, we could see a higher trading range."
In spot bullion, the benchmark London gold fix price stood at $883.25, falling $15.00 from the Wednesday PM fix. Silver gained 13 cents to $12.63 an ounce. Platinum was fixed $5.00 higher to $1,093.00.
Gold, considered a hedge during times of high inflation and economic uncertainty, tends to follow oil and move opposite to the U.S. dollar. A rising greenback makes dollar-denominated commodities, like bullion, more expensive for holders of other world currencies.
Oil and gasoline prices
Following government data released Wednesday that shows U.S. crude inventories at the highest level since September 1990, crude-oil for June delivery lost 41 cents, or 0.8 percent, to $50.56 a barrel.
In news for consumers, prices at the pump climbed for the second straight day. The national average for unleaded gasoline increased one-tenth of a cent to $2.051 a gallon, according to AAA. The average price per gallon is 1.2 cents lower than a week ago.
U.S. Stocks
U.S. stocks were topsy-turvy Thursday, ending mixed. The Dow Jones industrial average fell 17.61 points, or 0.22 percent, to 8,168.12. The S&P 500 Index slipped 0.83 points, or 0.09 percent, to 872.81. The Nasdaq Composite Index gained 5.36 points, or 0.31 percent, to 1,717.30.
Check out additional market resources at Live Bullion Spots, the Silver Coin Melt Calculator, U.S. Mint Collector Bullion Price Guide, and the Inflation Calculator.