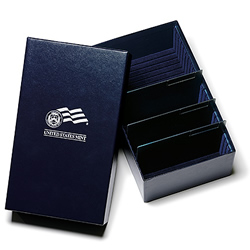 The US Mint on Thursday at noon ET will begin offering a newly designed Multi-Lens Collector's Box for $16.95, plus $4.95 for shipping and handling.
The product is advertised as a "one-size-fits-all storage solution" that is customizable with movable dividers and will hold old and new US Mint silver and clad sets.
To date, the Mint has offered non adjustable boxes that could hold either one-, two-, or three-lens sets. (Lenses are the rectangle plastic coin holders in sets.) Recently, however, changes in coinage laws and the inflexible nature of the boxes have caused frustrations for collectors.
As an example, the two-lens collector's box worked perfectly to hold several years of proof sets. That is, until Congress passed the law which brought about the Presidential $1 coins in 2007. That threw an unexpected kink into the works. Specifically, the collector's box to hold proof sets containing all 10 years of the state quarters no longer worked as intended. The Presidential dollars added another lens to proof sets, and they would not fit into the box.
In 2007, the proof set came in three lenses, but in two cartons where the Presidential lens was packaged separately. As a workaround, collectors could store the $1 coins separately and still maintain their state quarters' collector's box.
In 2008, however, the Mint change its packaging and placed all three lenses in a single carton, eliminating the workaround. CoinNews reader Dennis Kennedy aptly commented on the problem:
"The 2008 United States Mint Proof Set is packaged in a 3 lens carton that will not fit in the collectors box that was sold by the Mint for that purpose. The collectors box was advertised as for the ten years of Proof sets that came with the 50 state quarter's for each year. This is very disappointing because I now have to keep 2008 out of the collector box."
In the newest collector's box, the Mint states the design will "accommodate existing and new circulating coinage that may be added to silver and clad sets as they are introduced to the public." While collector's may have wished for such a solution two years ago, at least there appears to be one now.
When available, the boxes may be ordered on the Mint page:
Or through Mint's toll-free number, 1-800-USA-MINT (872-6468). Hearing and speech-impaired customers may order by calling 1-888-321-MINT (6468).