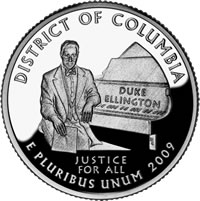 Coin collectors were expecting the District of Columbia Official First Day Coin Cover to go on sale Tuesday, at noon ET, based on a US Mint press announcement on April 3.
However, the cover is not yet available and the news release was pulled from the Mint Pressroom early Tuesday afternoon.
The latest information from customer service representatives indicates the DC cover will go on sale for $14.95 on Friday, April 24.
[Editor's update: The Mint has republished an updated press release confirming the new sale date is April 24, at noon ET.]
The cover is to includes two DC quarters with a reverse design featuring the image of internationally renowned composer and musician Duke Ellington seated at a grand piano. (Designed by Joel Iskowitz and sculpted by Don Everhart.)
The display card housing the two quarters will include a cancelled 42-cent Flags 24/7 stamp and a postmark of January 26, 2009, Washington D.C., marking the day the quarters were released into circulation. One quarter will be from the Mint's Denver facility while the other from Philadelphia.
Quarter production has plunged in 2009, with only 172,400,000 of the DC quarters minted for circulation. While that may seem apparently high, it is a mere shadow compared to any of the state quarters minted. The economic downturn is mostly responsible. Instead of hoarding coins, the public has turned them into cash. This has created a surplus at banks, reducing demand for new coins from the US Mint.
On the flip side, collectors have found it increasingly more difficult to acquire 2009 coins.