Precious metals were little changed Wednesday as gold climbed slightly and silver shifted down a penny. In other markets, U.S. stocks rallied, platinum gained and crude-oil fell.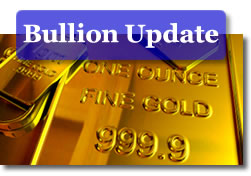 In New York bullion trading futures:
May silver fell 1 cent, or 0.1 percent, to $12.975 an ounce.

Gold for April rose $3.50, or 0.4 percent, to $926.10 an ounce.

April platinum gained $15.50, or 1.4 percent, to $1,136.30 an ounce.
"Economic woes are far from over and investors aren't expecting much out of the G-20 meeting," Lin Yuhui, research manager at China International Futures Co., was quoted on Bloomberg. "The dollar will continue to weaken, which is good for gold."
"Gold prices made modest advances on Wednesday, while at the same time the trade was seen as waiting for a better sense of direction and some results from the London G-20 summit," wrote Jon Nadler, senior analyst at Kitco Bullion Dealers. "Precious metals were buoyant at the start of this morning's session, but the moves to higher ground were still seen as range-bound and not as the turning of a new page."
In spot trading, the London afternoon gold-fixing price, which is a benchmark for gold traded directly between big institutions, stood at $924.50 an ounce. The London market for silver and platinum ended at $12.98 and $1,128.00, respectively.
Gold, considered a hedge during times of high inflation and economic uncertainty, tends to follow oil and move opposite to the U.S. dollar. A rising greenback makes dollar-denominated commodities, like bullion, more expensive for holders of other world currencies.
Oil and gasoline prices
Crude-oil fell on concerns over the Energy Information Administration report showing higher inventories. Crude for May delivery lost two cents more than Tuesday's gain, falling $1.27, or 2.6 percent, to $48.39 a barrel.
Gasoline prices at the pump actually dropped Tuesday, although not by much. The average price for unleaded gasoline fell one-tenth of a cent to $2.047 a gallon, which is 6.1 cents higher than a week ago.
U.S. Stocks
U.S. stocks rallied for the second straight day. Better than expected home and auto data were cited catalysts for the gains. The Dow jumped 152.68 points, or 2.01 percent, to 7,761.60. The S&P climbed 13.21 points, or 1.66 percent, to 811.08. The Nasdaq rose 23.01 points, or 1.51 percent, to 1,551.60.
Check out additional market resources at Live Spots, the Silver Coin Melt Calculator, U.S. Mint Collector Bullion Price Guide, and the Inflation Calculator.