Gold fell Monday for the second consecutive day as the U.S. dollar climbed against major world currencies. The yellow metal did not retreat alone. Silver, platinum, oil and stocks fell as well.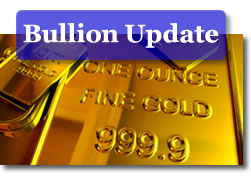 For the bullion daily numbers, New York gold, silver and platinum futures lost 0.8 percent, 1.7 percent and 1.3 percent, respectively.
May silver declined 23 cents to $13.033 an ounce.
April platinum fell $14.40 to close at $1,113.60 an ounce
Gold for April delivery lost $7.70 to end at $915.50 an ounce.
"Tendencies on equity markets and the dollar will be the dominant factors for oil and gold this week," Barbara Lambrecht, analyst at Commerzbank, was quoted on Reuters.
In spot trading, the London afternoon gold-fixing price — a benchmark for gold traded directly between big institutions — stood at $928.00 an ounce. The London market for silver and platinum ended at $12.96 and $1,120.00, respectively.
Gold, considered a hedge during times of high inflation and economic uncertainty, tends to follow oil and move opposite to the U.S. dollar. A rising greenback makes dollar-denominated commodities, like bullion, more expensive for holders of other world currencies.
Oil and gas prices
Crude-oil for May delivery tumbled as concerns over energy demands was cited as a major factor. In the end, oil plummeted $3.97, or 7.6 percent, to $48.41 a barrel — the biggest one-day fall for the month.
Consumers continue to spend more at the pump. AAA said the average price for unleaded gasoline is $2.048. That is three-tenths of a cent higher than Sunday, and 9.2 cents higher than a week ago.
U.S. Stocks
U.S. stocks stumbled Monday as financials and autos lead the declines. For the day, the Dow fell 254.16 points, or 3.27 percent, to 7,522.02. The S&P lost 28.41 points, or 3.48 percent to 787.53. The Nasdaq dropped 43.40 points, or 2.81 percent, to 1,501.80.
Check out additional market resources at Live Spots, the Silver Coin Melt Calculator, U.S. Mint Collector Bullion Price Guide, and the Inflation Calculator.