Precious metals prices soared Thursday as news of the Feds plan to buy $1 trillion in securities ignited inflation fears. New York gold and platinum futures jumped the most in six month, rising 7.8 percent and 7.6 percent, respectively. Silver marched 13.3 percent higher at its fastest pace in nearly 30 years.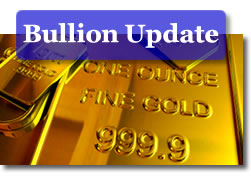 May silver surged $1.585 cents to close to $13.52 an ounce.
April platinum gained $79.40 to $1,121.80 an ounce
Gold for April delivery jumped $69.70 to end at $958.80 an ounce.
"Investors are worried the Fed will print as much money as they need to and this is going to lead to some insanely hot inflation, so they're out buying gold," Matt Zeman, a metals trader at LaSalle Futures Group in Chicago, was quoted on Bloomberg. "The dollar got clobbered. You print more money and it buys you less."
"Yesterday's Fed 'surprise' engendered conditions as wild as only those that veteran traders witnessed in prehistoric times, dating back to 1980," wrote Jon Nadler, senior analyst at Kitco Bullion Dealers. "Traders we polled this morning, indicated they had no specific expectations (or, could that be 'ideas'?) as to where the next two days might take gold prices," Nadler added.
In spot trading, the London afternoon gold-fixing price — a benchmark for gold traded directly between big institutions — stood at $956.50 an ounce. London silver and platinum were at $13.13 and $1,087.00, respectively.
Gold, considered a hedge during times of high inflation and economic uncertainty, tends to follow oil and move opposite to the U.S. dollar. A rising greenback makes dollar-denominated commodities, like bullion, more expensive for holders of other world currencies.
Oil and gas prices
Credit for spurring oil prices was also given to the Fed. Crude-oil for April delivery surged $3.47, or 7.2 percent, to close at $51.61 a barrel — a high point not see since Nov.
Meanwhile, in not so good news for consumers, AAA said the average price for regular unleaded gasoline increased 1.3 cents from Wed. to $1.933 a gallon.
U.S. Stocks
U.S. stocks took in the Fed news late yesterday and rallied, but pulled back Thursday with the Dow losing 1.2 percent in early numbers. The S&P slipped 1.3 percent and Nasdaq lost 0.5 percent.
Check out additional market resources at Live Spots, the Silver Coin Melt Calculator, U.S. Mint Collector Bullion Price Guide, and the Inflation Calculator.