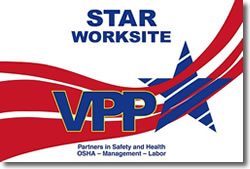 The United States Mint at Philadelphia has earned OSHA's Voluntary Protection Program (VPP) "Star" safety designation, indicating it is one of the safest worksites in the nation.
"I am proud of the United States Mint at Philadelphia for its continuing commitment to workplace safety, which has earned the facility recertification as one of the safest in the Nation," said United States Mint Director Ed Moy. "It remains the only Department of the Treasury facility with STAR status."
A Star flag-raising ceremony was held Monday with Mint employees, managers, and union and OSHA representavives. It is the second time the US Mint at Philadelphia has earned the VPP Star. The first was in 2005.
OSHA, an agency of the Department of Labor, stands for the Occupational Safety and Health Administration. It was created in 1970 to prevent work-related injuries, illnesses, and deaths. The VPP program began in 1982 under OSHA to promote excellence in worksite occupational safety and health management.