Dallas, TX – A coin that was the result of the perfect confluence of partisan politics and poor planning in Reconstruction-era America, an 1876-CC 20 Cent piece graded MS64 by NGC, is among the highlights of Heritage Auction Galleries' March Baltimore, MD Signature® US Coin Auction, March 28 – 31. The coin, from The Belle Collection of Carson City Coinage, is one of less than 20 known surviving examples from a mintage of 10,000.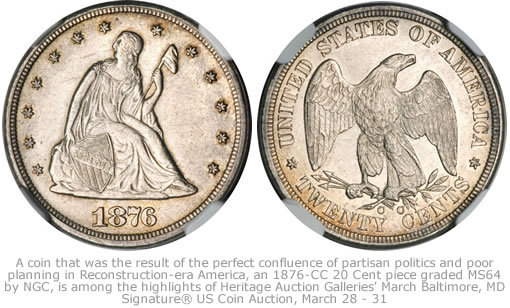 The 1876-CC 20 Cent piece, produced at the legendary Carson City mint, was an oddity even in its own time. For more than 80 years, quarters had been one of the nation's principal subsidiary coins. The idea of the 20 cent piece, however, hearkened back to the days, and ideas, of Thomas Jefferson.
This coin, though, was no sop to the nation's third President. It was an effort by the powerful emerging silver lobby out of America's West – Nevada, in particular, in the form of Silver Baron turned Senator John Percival Jones – to get a piece of the expanding federal pie. Jones succeeded in 1875 in overseeing passage of a Congressional bill authorizing production of the twenty cent denomination. Production began in 1875, only to cease altogether by 1878.
"From the start, the denomination was flawed in concept and execution," said Greg Rohan, President of Heritage. "It was too close in size to the quarter, and both denominations shared basically the same obverse, with similar reverses. Mint officials, sensing the dangers, produced the coin with a plain edge rather than the quarter's reeded edge, a subtlety that – like the raised LIBERTY on the 20 cent – was lost on the public at large. It's reminiscent of the 1979 introduction of the Susan B. Anthony dollar, slightly larger than a quarter and with an 11-sided inner rim to aid in distinguishing it. It lasted three years in circulation."
Unlike the Susan B., however, this coin has grown to be worth a tremendous amount, both as a numismatic treasure and as a American cultural relic. From a mintage of about 10,000 coins, the current estimate of surviving examples, including the "Maryland Hoard" of seven to nine pieces discovered in the 1950s, is 16 to 18 coins. The 1876-CC twenty cent piece was known as a special and incredibly rare coin as early as 1893, when Augustus Heaton published his famous Mint Marks pamphlet that changed American numismatics forever.
"Although we've handled specimens of this legendary rarity twice before, it has been nearly a decade since we last offered an example," said Rohan. "Coins of this ilk rarely come onto the market, and the present piece may mark the last such appearance for many years to come. In MS64 this piece is one of three so certified at NGC, with only four finer. Although some other issues from the Carson City Mint are now known to be rarer in an absolute sense, the 1876-CC 20 cent has a long-lasting cachet unmatched by any other issue from that fabled and legendary institution."
As always with Heritage Signature® Auctions, fine collections provide a solid anchor, and this auction is no different. In Baltimore, Heritage will feature five:
Other highlights of the Baltimore Auction include:
Ex: Jack Lee 2. The 1886-O dollar stands out as being the rarest New Orleans issue in MS65 or better condition as fewer than five Gem specimens are known to exist. The current offering belongs to that small fraternity of high-end 1886-O dollars. After more than 20 years of third-party grading, only five coins are currently documented at the MS65 level or above at both major services.
Predominately white surfaces abound with intense cartwheel luster. Although known to be notoriously weekly struck, this 1886-O dollar boasts an unusually strong strike. The negligible scattered abrasions number fewer than the most conservative of graders would allow for a Gem Morgan dollar. A memorable specimen that was one of the prides of a great collector's cabinet.
The 1870-CC double eagle combines many of the characteristics that collectors find most desirable in U.S. coinage. It combines the desired and legendary CC mintmark with the largest classic coinage denomination ever issued for circulation, and adds the historic first year of production for the historic Carson City Mint. This Choice XF example shows the heavy abrasions on both sides that are typical of, literally, every known example.
These soft and heavy coins circulated in the rough-and-tumble West until the survivors were plucked from the channels of commerce, and that has taken its toll. However, this piece offers the twin blessings of good original color and considerable luster remaining for the XF45 grade, qualities that most survivors lack. The surfaces are mellow orange-gold, with considerable reflectivity and even some faint prooflikeness remaining in some of the protected areas. From The Belle Collection of Carson City Coinage
Ex: Ed Price Collection. The obverse die has 16 stars arranged point to point. This unusual arrangement is similar to the orientation on 1794 silver dollars but on no other early U.S. coins. While the No Stars design of 1796 is the higher visibility coin with its one-year type design, the With Stars variant is actually considerably rarer.
Less than half as many With Stars were struck as No Stars (432 vs. 963 pieces), and since the With Stars has the same design type as the successive years through 1807, it is an overlooked issue among early quarter eagles. The estimates of the number of survivors range from as few as 20 to a high of 30. This piece shows soft detailing in the center of each side and there are a few light adjustment marks located in the center of the reverse.
The late Jack Collins spent considerable time and effort studying the 1794 silver dollars, and his manuscript was nearly completed at the time of his death. The Collins manuscript included individual provenances and illustrations of approximately 125 different specimens, and formed the basis for the published study of Martin Logies. The present example is an attractive pewter-gray specimen with traces of gold and iridescent toning on both sides. Overall this is a remarkable middle grade circulated piece that will garner considerable interest.
The 1930-S ten dollar gold piece boasts a small mintage of 96,000 pieces. The reason for producing coins of this denomination at all is a mystery to modern numismatists, as they were clearly not needed in the regional economy. No eagles had been produced at any of the mints since 1926, and no more coins of this denomination would ever be minted at San Francisco. Experts estimate a surviving population of 125-140 examples of this date, all preserved by coin collectors who saved them at the time of issue. The coin offered here is an extraordinary specimen of this elusive date.
1969-S 1C Doubled Die Obverse MS63 Red PCGS.
The recently released fifth edition of Bill Fivaz and J.T. Stanton's popular Cherrypickers' Guide records the rarity of this variety as "URS-6," which means that between 17 and 32 examples are believed to exist. That is an extremely small number of coins for a collecting specialty as popular as Lincoln cents. (In fact, that is a small number of coins for nearly any collecting specialty.) This beautiful cent has fully brilliant orange luster with satiny, slightly reflective surfaces and bold design features. This piece is one of only three Red Mint State coins at PCGS, and among the finest certified.
The 1895 Morgan dollar has been an object of great desire for many decades, and the mysterious alleged production of 12,000 business strikes, with none ever verified by numismatic experts, has only compounded that desire. The year 1895 has a special cachet all its own. Just as the 1879-CC, 1889-CC, and 1893-CC dollars constitute the "great triumvirate" of key-date CC-mint dollars, so the year 1895 boasts three issues, each incredibly difficult in its own right: the 1895 proof-only dollars; the 1895-O, which is one of the most intriguing and elusive Morgans in Gem condition; and the 1895-S which, while also a condition rarity, is the most available of the three. While several hundred 1895 proof Morgan dollars still exist today, precious few approach the quality of the present specimen.
1907 $20 High Relief, Flat Rim MS65 PCGS.
From an original mintage of 12,367 pieces, the famous MCMVII High Relief Saint-Gaudens double eagles are known in both Wire Rim and Flat Rim varieties. In the Encyclopedia of U.S. Gold Coins 1795-1933, Jeff Garrett and Ron Guth estimate the Flat Rim double eagles are nearly five times as scarce as the Wire Rim variety today.The present coin is a magnificent specimen, fully struck, with bright, satiny luster. The surfaces are a pleasing yellow, with an even layer of reddish patina on each side. The surfaces are essentially pristine.
There were few proof gold collectors in 1908. Only 167 proof half eagles were struck, an increase from the 92 proofs produced the prior year. The 1908 quarter eagle had a comparable increase in proof mintage from its 1907 predecessor. The cause for the additional pieces struck was presumably the new designs by Bela Lyon Pratt. These replaced the long-lived Liberty types, which had been struck throughout the entire lifetime of most collectors of the era. The present piece is essentially perfect, save for a tiny Mint-made planchet flaw located directly beneath, but relatively distant from, the U in TRUST.
For more information about Heritage's auctions, and a complete record of prices realized, along with full-color, enlargeable photos of each lot, please visit www.ha.com.
To reserve your copy of any Heritage auction catalog, please contact Client Services at 1-800-872-6467, ext. 150, or visit www.ha.com to order by email.
# # #
About Heritage Auction Galleries
Heritage Auction Galleries is the world's third largest auction house, and by far the largest auctioneer of rare collectibles, with annual sales over $700 million, and 400,000+ registered online bidder members. For more information about Heritage's auctions, and to join and gain access to a complete record of prices realized, along with full-color, enlargeable photos of each lot, please visit www.HA.com.